EDITOR'S NOTE: This column contains themes and images that may not be suitable for minors. Parental guidance is strongly advised.
An intense video showing a brave Filipino man risking his safety as he hand-feeds chickens to a deadly giant python has scared the online community.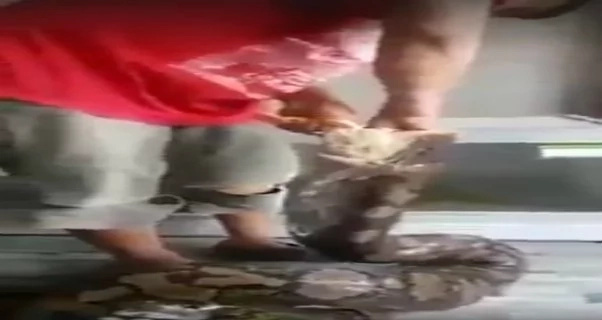 The video shows the man helping the python open its mouth to accommodate the large dead chickens into its mouth.
READ ALSO: Gutsy Chinese girl hypnotizes and puts to sleep scary creatures live on stage
The man in the video seems to be calm, relaxed and extremely confident that the giant snake would not bite him or try to eat his hand and arm.
The online community was extremely shocked by the feeding technique of the brave man in the video.
READ ALSO: Perverted Pinoy caught on video victimizing helpless female Jeepney passenger
"Hindi ba pwedeng iwan na lang yung pagkain niya sa floor? Bakit irisk pa na atakihin bigla nung sawa? Dapat mas maingat siya sa ganyang delikadong hayop," a concerned netizen wondered.
(Could he not just leave on the floor the snake's food? Why does he need to risk getting attacked by the python? He should be more careful around that dangerous animal.)
Other netizens commented that humans should avoid as much as possible interacting with wild animals, especially predatory reptiles.
READ ALSO: Pinoy in Compostela Valley goes viral for taming wild cobras
"Masyado siyang kampante sa ahas na yan. Ang mga ganyang hayop bigla na lang nagwawala at nanunuklaw ng amo nila," a social media user explained.
(He is too relaxed with that snake. Those kinds of animals can all of a sudden lose their temper and bite their masters.)
SHARE this extremely scary snake video with your family and friends!
The animal video below will entertain you as well!
READ ALSO: Poor Pinay baby dies after swallowing Sprite bottle cap
Source: Kami.com.ph