- President Rodrigo Duterte is undeniably popular to many Filipinos who support his advocacies
- This may have led to one of his supporters pinching his cheeks during one of his public appearances
- PNP Chief Bato Dela Rosa posted a "Wanted" poster to search for the identity of the person
President Rodrigo Duterte is undeniably popular in the country and has supporters from all walks of life. Whether it is the elite class or the marginalized, the President has supporters who are loyal to his administration and advocacies.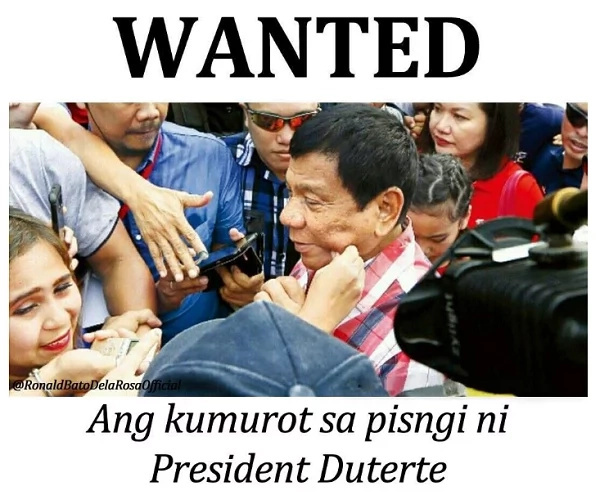 While he is enjoying his popularity among his supporters, Duterte is still subject to criticism and bashing. This is just normal because there is no perfect President who can please everybody.
READ ALSO: Duterte wishes to be buried beside his parents
In the Facebook page of Philippine National Police Chief Ronald "Bato" Dela Rosa, a "WANTED" poster was posted which includes the photo of Duterte with his left cheek being pinched by an unknown supporter during one of his public appearances.
The photo states, "WANTED: Ang kumurot sa pisngi ni President Duterte (Wanted: The person who pinched President Duterte's cheeks)."
Together with Duterte in the photo is his partner Honeylet Avanceña, and their daughter Veronica "Kitty" Duterte".
READ ALSO: Corpse in Capiz, not decomposing since 1929
While the photo seems like a funny joke by Bato, it might be a serious issue, too. Others are wondering whether it is a security breach to pinch the President's cheek.
Still, it is still better that a person only pinched the President's cheek instead of using a weapon to hurt him.
Indeed, this person was not able to hold his admiration for the cuteness and charm of the President.
READ ALSO: Old woman from Quezon is siblings with a snake
Watch the video below and see why Duterte is one of the funniest persons you will ever meet!
Source: Kami.com.ph