- P100 million worth of shabu was seized by authorities in Ongpin
- Poseur-buyers bought 100 grams of shabu from the two suspects
- Aside from shabu, a .45-caliber and P300,000 worth of marked money were also confiscated
During a buy-bust operation, 20 kilos of methamphetamine hydrochloride also known as shabu was seized in Ongpin Manila, Friday morning.
The illegal drugs wrapped in carbon paper have a street value of P100 million according to the police. According to initial reports, poseur-buyers bought 100 grams of shabu from the suspects Rommel Rodriguez and Albert Gasingan during a buy-bust operations conducted by the anti-illegal drug operatives of Manila Police District Station 11.
The arrest was conducted by authorities after they discovered that the suspects possessed a large shabu cache wrapped in foil and carbon paper inside their car.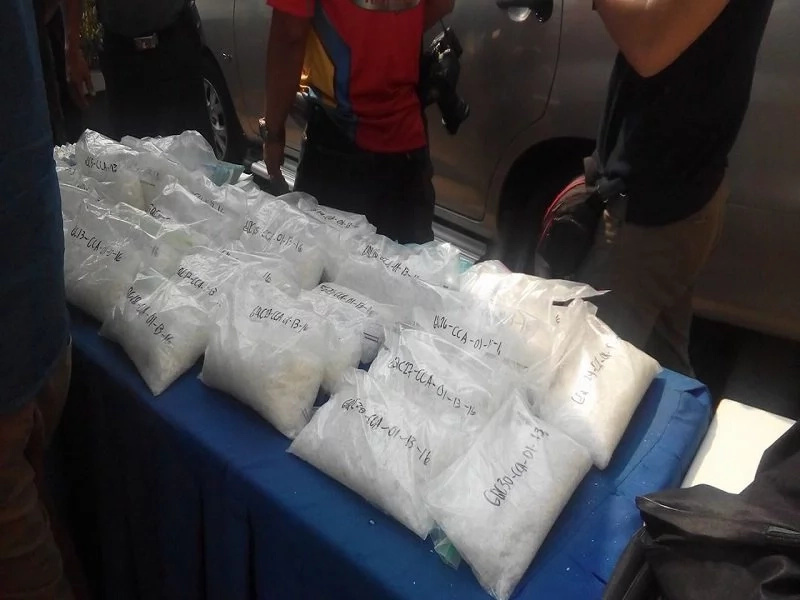 READ ALSO: 4 suspects dead in an anti-drug operation in QC
Aside from the illegal drugs, a .45-caliber handgun was also seized from the suspects and P300,000 worth of marked money. Suspects also possess identification cards of Chinese nationals which was also recovered by the authorities.
The suspects are set to face charges if the violation of the Republic Act 9165 also known as the Comprehensive Dangerous Drugs Act of 2002.
President Rodrigo Duterte has been criticized locally and internationally when his administration started its war on drugs.
READ ALSO: 8 killed, 8 injured during anti-drug operations
He has expressed condemnation against his critics. President Duterte has previously uttered controversial remarks against US President Barack Obama, the Unied Nations (UN), and the European Union (EU).
He has also been attacking one of his staunch critics in the local government, Senator Leila De Lima.
Watch this video of a 2-year-old heavy smoker from Indonesia:
READ ALSO: 5 more drug suspects died during buy-bust operation
Source: Kami.com.ph