- President Rodrigo Duterte said that he wants to be buried beside his parents' tomb when his time comes
- According to the president, being laid beside his parents is the greatest honor he could have
- Duterte visited his parents' grave on November 1
It was such a touching moment when the tough leader President Rodrigo Duterte had shown his soft side when he shed tears as he visited the grave of his parents May this year.
Being a loving son as he is, the president insisted to be buried beside his parents' tomb when his time comes. Responding to questions whether he wants to be buried at the Libingan ng mga Bayani, he responded:
"Susmaryosep, kanila na yan. Pagtatalunan pa natin yan. Walang pinaka mas honor para sa akin kung 'di itatabi ako sa nanay pati tatay ko."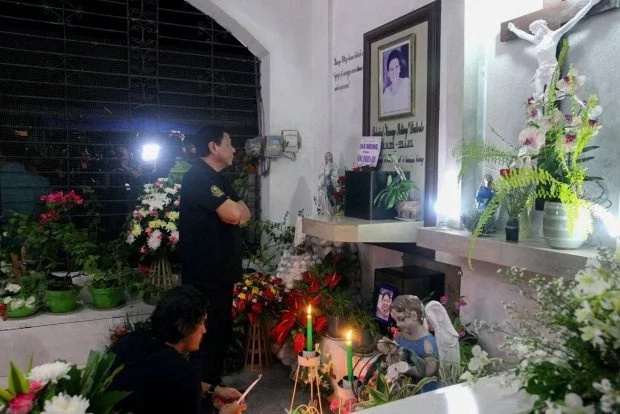 READ ALSO: WATCH! Duterte weeps as dawn breaks
(They can have it. We need not to argue about it. There is no greater honor for me than to be laid beside my mother and father.)
Presidents, commanders-in-chief, chiefs of staff, dignitaries, and statesmen may be buried at he Libingan ng mga Bayani under military regulations.
President Duterte visited the tomb of his father Gov. Vicente Duterte, and his mother Soledad Duterte on November 1 with his son, Sebastian also known as "Baste" at around 10:30 p.m. at the Roman Catholic Cemetery in Davao City.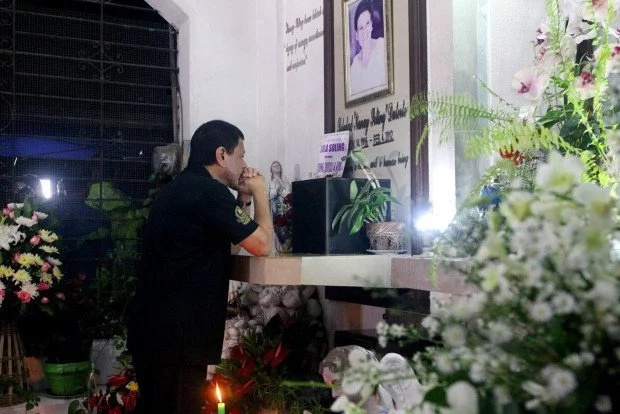 READ ALSO: Duterte insists Marcos' burial at Libingan ng mga Bayani
President Duterte kissed the marble casing of his parents' tomb and bowed on it.
He regularly visits his parents' grave on their birthdays, death anniversaries, and All Saints' Day.
The pesident's father was undivided Davao's last governor and was the Cabinet Secretary for General Services of late President Ferdinand Marcos whose remains was insisted by President Duterte to be buried at the Libingan.
READ ALSO: Duterte visits wake of netizen's grandmother
The current president's mother was a teacher who participated in his husband's socio-civic projects and was the leader of Davao's Yellow Friday Movement which played a role i the success of the EDSA Revolution.
Speaking of which, find out how these people were so close to dying yet they managed to cheat death:
READ ALSO: Bongbong Marcos talks to Duterte on burial
Source: Kami.com.ph