- The Kapamilya actress has set up a Go Fund Me page to help finance his dad's medical bills
- In order to save the life of Helga's dad, he has to undergo a procedure called angioplasty
- Her family is in need of P700,000 to P1M for the operation
ABS-CBN star Helga Krapf is asking netizens for financial help that will be used to fund the heart surgery of his German father Hans Krapf.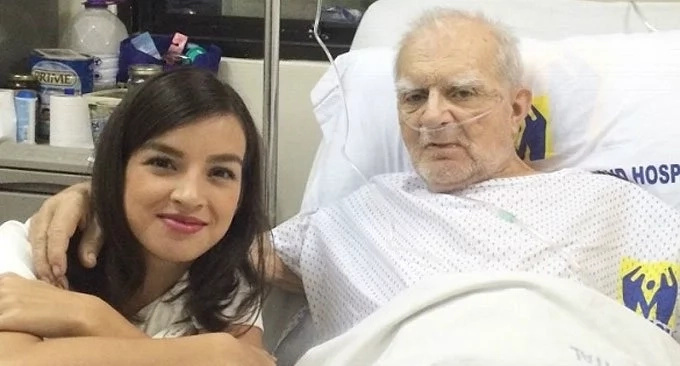 The Star Circle member has set up a Go Fund Me account in order to raise awareness about her dad's condition which requires an operation called angioplasty – a procedure used to widen blocked or narrowed arteries or veins.
READ ALSO: Amazing Chinese girl hypnotizes and puts to sleep scary animals live on stage
Her dad has been in and out of the hospital for the past four years and the medications he has been taking have not improved his condition.
"My Father is in need of angioplasty with stents due to some blockages in his heart. He's going to need the angioplasty as soon as possible if we want to save his life," the star said.
READ ALSO: Pinoy pervert caught on video victimizing helpless female Jeepney passenger
According to Helga, her family is need of P700,000 to P1 million to fund the angioplasty surgery. She said that she took the courage to ask netizens for financial help because her family does not have enough resources to pay for the sensitive surgical operation.
READ ALSO: Brave Pinoy becomes famous in Compostela Valley for taming deadly cobras
"I'm doing this because Its hard for me to accept that just because we don't have the means to get him this Medical procedure right now, we should give up and not try anymore," Helga explained.
She added that she is hoping that through Go Fund Me page, many good-hearted people will reach out and help her ailing father.
The star has appeared in TV shows such as "Pangako Sa 'Yo," "Pure Love" and "Honesto." She also starred in movies such as "BFF" and "Forever and a Day."
The emotional video below will also make you cry.
READ ALSO: Poor Pinay baby dies after swallowing Sprite bottle cap
Source: Kami.com.ph