- A video of a Chinese woman violently falling down the stairs while texting has gone viral
- The woman immediately used her phone again after falling 30 steps down the stairs
- Netizens urged the public not to use their phones while walking around
CCTV footage of a clumsy Chinese woman falling down a flight of stairs after she lost her balance while using her phone has swept the online community.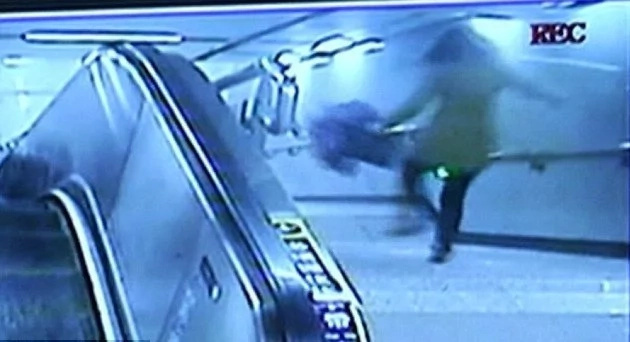 The video shows the woman violently falling down 30 steps into the ground. Fortunately, the woman did not lose her consciousness but most netizens believe that she must have sustained a fracture.
READ ALSO: Pinoy pervert caught on video victimizing helpless female Jeepney passenger
The woman can also be seen immediately checking her phone right after falling and injuring herself.
"Babae nahulog sa 30 steps na hagdanan habang kinakalikot ang cellphone. Makapag hihintay ang status o reply kaya mag focus tayo sa nilalakaran. Unang na check ni ate pag katapos gumulong ..syempre yung cellphone pa din . Text pa more," the netizen who shared the video posted.
READ ALSO: Brave Pinoy becomes famous in Compostela Valley for taming deadly cobras
(This woman fell 30 steps down the stairs while using her cellphone. We should focus on our steps because texting can wait. She immediately checked her cellphone and texted after falling down.)
Many Filipino netizens said that this kind of behavior is usually seen in the Philippines.
READ ALSO: Scared man abandons girlfriend as crocodile attacks them in swimming pool
"Sa Pinas maraming ganiyan. Kahit tumatawid ng daanan ng sasakyan gamit pa rin ng phone. Tapos magulat pa sila kapag naaksidente," a social media user lamented.
(There are a lot of people like that in the Philippines. Many of them cross roads and streets while using their phone and then they will get shocked if they get into an accident.)
SHARE this shocking video with your loved ones!
The video below might also shock you!
READ ALSO: Lightning violently strikes unsuspecting woman walking in the rain
Source: Kami.com.ph