- The winners of Miss Earth 2016 confessed the type of men they want as a partner
- Katherine Espin, Michelle Gomez, and Bruna Zanardo dropped by "Umagang Kay Ganda" on Thursday
- They also talked about how they had a wonderful stay in the Philippines
Miss Earth 2016 Katherine Espin, Miss Air Michelle Gomez, and Miss Fire Bruna Zanardo made a guest appearance on ABS-CBN's morning show, "Umagang Kay Ganda," after earning their prestigious titles on November 3, Thursday.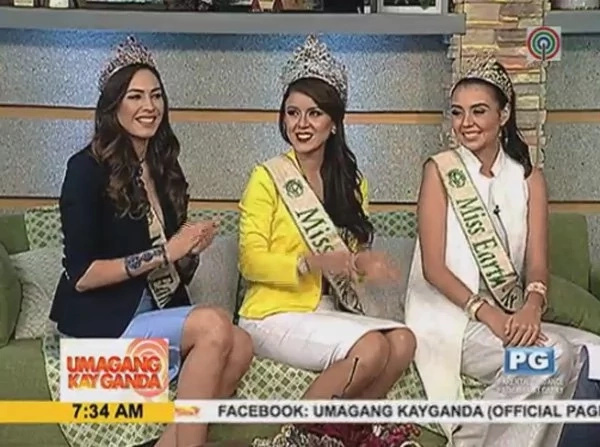 The winners were lively on chatting with the program's hosts and even shared the qualities that they look for in a man.
READ ALSO: Katherine Espin responds to accusations made by Miss Earth Philippines
Espin confessed that she wants a man who knows how to strive in life, is independent, stays faithful, and remains honest all the time.
"…And treat me like a princess – well, like a queen," she added.
As for Gomez, a partner who has a great sense of humor and one who is true to himself are what consists her ideal man.
READ ALSO: Loren Artajos is the new Miss PH Earth
Meanwhile, Zanardo admitted that she is currently in a relationship.
When the topic of marriage was casually touched upon, the three explained that they can't afford to wed yet because of their titles.
Aside from beauty and brains, they were also passionate and dedicated on working to reach their goal of educating more people about the present state of the environment. Espin said that they would have to work closely together to be successful on their respective advocacies.
READ ALSO: Kiara Giel Gregorio becomes the new Miss Philippines Earth 2016
On a different note, Gomez talked about how they had a great time in the Philippines – with their stay reaching a month the following day after their interview.
She and Espin cheerfully recalled how they have possibly taken 10,000 selfies during their visit, and even claimed how they felt 'famous.'
With that being said, they were looking forward on coming back and would likely stay for a month or two once their schedules have been arranged.
READ ALSO: Ecuadorian bet wins Miss Earth 2016 after PH pick fizzles out
Just like how the three gorgeous ladies steal the show everywhere, this toddler did the same thing when she joined street performers.
Miss Earth 2016 was held at the Mall of Asia Arena in Pasay City on October 29, 2016.
Source: Kami.com.ph