EDITOR'S NOTE: This video contains themes and images that may not be suitable for minors. Parental guidance is strongly advised.
An intense CCTV footage showing an intense encounter between a brave policeman, two dangerous robbers and the cop's wife has swept the online community.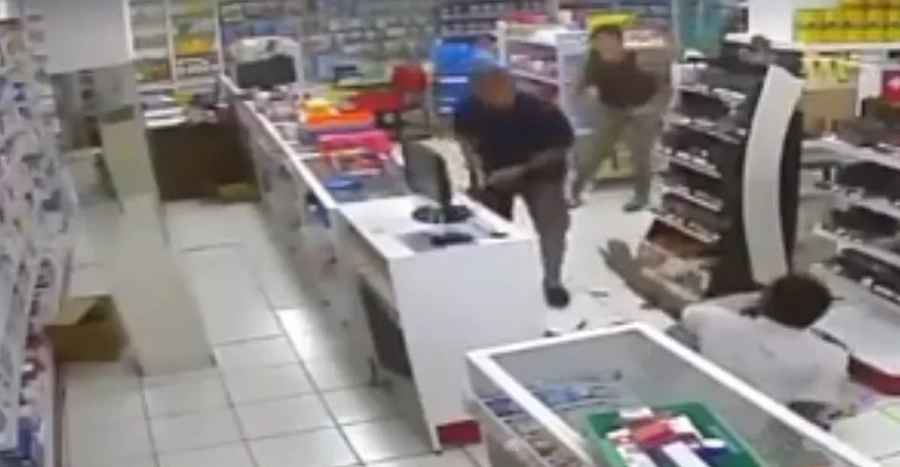 The video shows the cop getting into a gunfight with the hold-uppers inside a grocery store. The cop was able to force one of the robbers on the ground.
However, the robber noticed that the cop was distracted by his surroundings. The criminal took the opportunity to try and grab the gun away from the policeman.
READ ALSO: Woman caught on CCTV walking in the rain and getting struck by lightning
When the cop's wife noticed that her husband was struggling with the robber for the firearm, she decided to risk her life and helped her partner gain possession of the gun.
Many netizens applauded the cop and his wife for their bravery.
READ ALSO: Heartbroken Pinoy's epic fail suicide attempt goes viral
"Muntik na madali si Mamang Pulis. Buti nalang tumulong si misis. Huwag nyong bibigyan ng pakakataon na maunahan kayo ng kawatan," the social media user who shared the video posted.
(The cop was almost killed. Thankfully, the wife helped out. This is a lesson that criminals should not be given an opportunity to retaliate.)
Other netizens agreed that the cop should have been more vigilant and focused during the encounter.
READ ALSO: Violent waiter brutally punches aggressive female customer
"Patayin na dapat ganun, may baril yung holdaper e," a social media user commented.
(He should have shot him already since the hold-upper carried a gun.)
SHARE this intense video with your family and friends!
The video below is also very intense!
READ ALSO: Pinoy motorcycle rider accuses MMDA enforcers of abuse and extortion
Source: Kami.com.ph