EDITOR'S NOTE: This video contains themes and images that may not be suitable for minors. Parental guidance is strongly advised.
An intense video of a heartbroken Filipino planning to commit suicide in public by jumping off the rooftop but failing at his attempt has gone viral.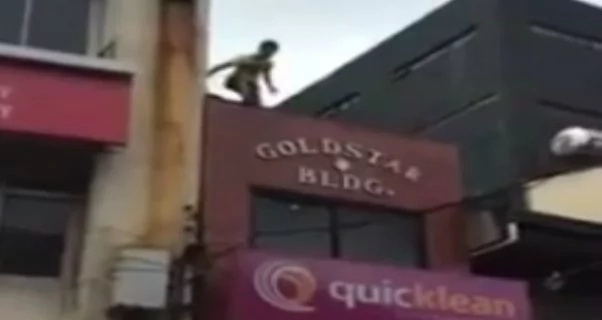 \The video shows the man at the edge of the rooftop with the citizens urging him not to go ahead with his plan to kill himself.
According to the netizen who shared the video, the Pinoy was heartbroken after his beloved wife abandoned him.
READ ALSO: Heroic off-duty cop kills hold-uppers in restaurant
"Nagmahal, iniwan ng mahal na asawa, nasaktan, yun magpapakatiwakal," the netizen posted.
(He fell in love, he was left alone by his wife, he got his heart broken, and then he attempted suicide.)
Fortunately, the man was able to change his mind just before jumping off the rooftop.
"Ano ba yan, dahil sa mga balak niyang pagpapakamatay nabulabog yung ibang tao," a netizen wrote.
(The man caused great inconvenience to other people with his suicide attempt.)
READ ALSO: Violent waiter brutally punches aggressive woman in restaurant
Other social media users sympathized with the emotional state of the Filipino.
"Ganyan siyempre kapag subra mong minahal ang isangg tao tapos pinagpalit kalang ano pa kya kung asawa mo na," a social media user said.
(He did that because he was deeply in love and was replaced with another. It is even more hurtful if the person who did it was your spouse.)
However, several netizens said that being left behind by a spouse is not a reason to commit suicide.
READ ALSO: Scared Pinoy motorcycle rider accuse MMDA enforcers of extortion
"Walang karapatan ang tao na kunin ang sarili niyang buhay dahil bigay lang sa kaniya ng Diyos yan," a social media user explained.
(A man has no right to take his life because his life was given to him by God.)
SHARE this disturbing video with your loved ones!
The video below will also disturb you!
READ ALSO: Affectionate Arab girls break down as they say goodbye to their Pinay maid
Source: Kami.com.ph