Man in motorcycle accident beat up by random guy
- While on the streets, it is important to keep vigilante
- However, sometimes accidents will happen
- In this video, a man was violently beaten up right after he got into a motorcycle accident
Late October 28, 2016 at 11:34pm, Jhay Felipe posted a video of a traffic accident which had a twist ending.
READ ALSO: Ang sama! Cruel woman caught hitting St. Bernard dog in Baguio City for photo's sake
In the video, a motorcycle with a man driving and a lady passenger were speeding along the road. As they tried to overtake a jeep, another man wearing a red t-shirt was crossing the road.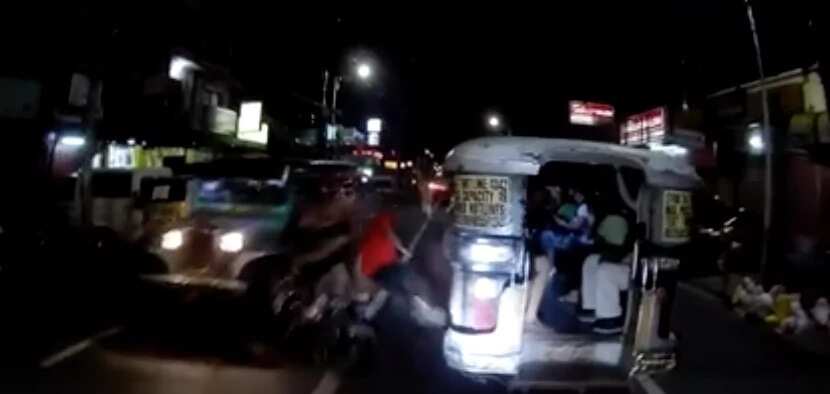 The motorcycle driver did not see the man in red and quickly tried to swerve in order to avoid hitting the man.
READ ALSO: Sumunod na tayo! Cesar Montano accompanies friend Epy Quizon to drug test at PNP
But, they still collided, and the motorcycle tumbled down.
The woman passenger was thrown off the motorcycle and into the path of the jeep. She fell into the path of the jeep, which started rolling over her.
Fortunately, the jeep stopped and backed up and the woman was able to stand up.
READ ALSO: This Paedophile Wanted Threesome With Mum And 12-Year-Old Daughter (Photos)
However, the video doesn't stop there. Suddenly, a man wearing a red t-shirt came out of nowhere and started beating up the motorcycle.
According to a comment by Attack Coc, who claims to be the motorcycle, they were being chased by two brothers.
The full details are yet unknown but the two in the accident are safe for now.
WATCH the brutal video below:
Source: KAMI.com.gh