- Miss Earth 2008 Karla Henry and Ms Philippines-Earth 2016 Imelda Schweighart attacked each other on social media
- Imelda ranted on her Facebook account about two girls who allegedly laughed at her while she was speaking in front of the judges
- Karla who believes she is one of the two girls slammed Imelda through a Facebook post
Two beautiful ladies clashed on social media as Miss Philippines-Earth 2016 Imelda Schweighart ranted on her Facebook post about two girls who allegedly laughed at her while she was speaking before a panel of judges during a preliminary judging event on October 25.
Imelda posted:
"I was faced with a panel of judges for them to get to know my aspirations in life. When I said what my dream was... two girls from this country laughed at me in [front of] the panel of judges the moment I shared my dream. What is wrong with this country? Why are people so fond of pulling each other down?"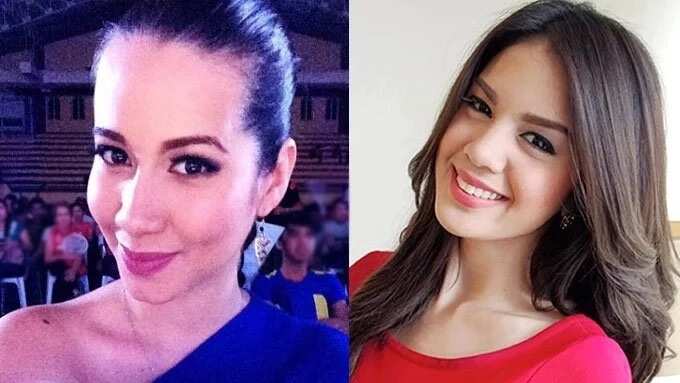 Miss Earth 2008 Karla Henry, who believes she was one of the two girls Imelda was referring to, posted an open letter to Imelda and explained about what really happened during that time:
READ ALSO: Panalo ang sagot ni Miss Philippines Kylie Verzosa sa Miss International 2016
"Since you did not want to talk to me directly I'll just say this here, since you're also so fond of posting your rants on social media."
"I believe you are referring to me as one of those ladies who laughed at you when you shared what your dream was since all judges were older than 7-9 years."
"Well, I suggest you either find out the whole truth and not come out with your own version of it on social media."
"FACTS FOR YOU MY DEAR PLS READ CAREFULLY:
1. I was NOT a judge just a host/timekeeper
2. I did not laugh at you because after what you have said and done the past few weeks I was actually curious of what you had to say
READ ALSO: Miss International 2016 Kylie Verzosa namumukod-tangi ang ganda
3. Somewhere mid of your interview I lost interest and started talking to Princess about something completely unrelated to you or Ms Earth for that matter.
So now that you know please stop having so much self pity and start getting your head in the game."
Karla then gave an advice to Imelda and said: "Oh and by the way, you said you wanted to be a popstar. Well, suggestion No.2, have thicker skin if you want to be in this industry."
READ ALSO: 18 larawang nagpapatunay na kaakit-akit si Kylie Verzosa
Source: Kami.com.ph