Uber-app fan tagged by neighbors as promiscuous for coming home in different cars
- Marilou Olegario is a constant user of Uber and Grab
- She would normally use the service to get home from work
- Unfortunately, her neighbors were very keen observers they tagged her as promiscuous coming home in different cars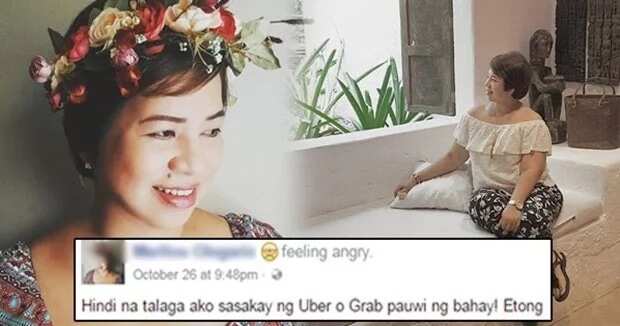 Noisy neighbors strike again!
When was the last time that you went to a neighbor's house just to talk and chat about the life of your other neighbors?
If you can't remember, then good for you because this woman surely has these kinds of neighbors.
READ ALSO: House approves 100 days paid maternity leave
Marilou Olegario is an Uber and Grab fan who would constantly (perhaps daily) use the app to avail herself of a fast and good transportation when she goes home from work.
The convenience and ease that Uber and Grab have given her was not kept secret as she would often express her contentment on Facebook.
Unfortunately, there will always be the tsismosos and tsismosas of the world.
READ ALSO: Kylie prepared for months for Miss International
Since Marilou is taken home almost every day by different cars, she was tagged by her neighbors as promiscuous.
When word reached Marilou, she immediately took to Facebook and expressed her dismay, anger and disgust.
READ ALSO: Kylie looks great in these amazing pics
Her post quickly reached thousands of likes and was shared so many times since people can readily relate to what she's experiencing.
Well, the Philippines will always have tsismosos and tsismosas who don't know how to mind their own business.
This woman in the video has another problem - her body.
Source: Kami.com.ph