- Haute couture fashion designer of award-winning gowns Leo Almodal finally airs his side on the issue of (him) not dressing up Filipina contestants in international pageants
- In a Facebook post, Almodal clarified that the issue is beyond his capabilities to control and even explained that he has tried to offer his services but has been rejected
- Almodal concluded his post by saying that after learning his lesson, he has decided to be an independent entity with a business and a high fashion brand who do not discriminate against the "women" who needs his services
Award-winning haute couture fashion designer Leo Almodal broke his silence on Wednesday, October 26, after getting bashed for "not" dressing up Filipina candidates in International beauty pageants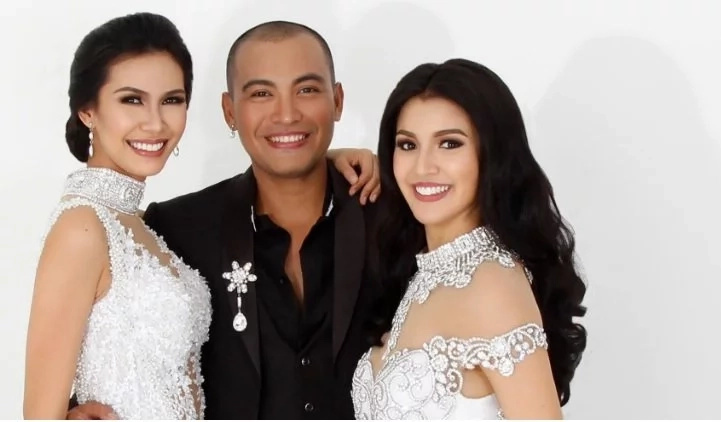 In a Facebook post, Almodal decry the unfair bashing that he has been receiving for "not" dressing up the Filipina candidates, saying that not only is it beyond his hands but that he has already tried to offer his services but has been rejected for doing so.
READ ALSO: Gandang hindi nakakasawa! 13 times Liza Soberano looked stunningly beautiful in a gown
He also clarified that since the handlers of the Philippines' bet in the international pageants would not take him in, he eventually learned his lesson and had since decided to be an independent businessman with a "high fashion brand" who aims "to dress 'women' and bring out the best version of themselves."
READ ALSO: 9 impressive Pinay celebrities with astounding degrees
Here is the full post made by Almodal to clarify his position regarding the issue:
"These past few months I realize that a lot of fellow Filipinos unfollowed me in social Media and receive a lot of angry and disappointed comments why I'm not dressing up the Philippines delegates in their respective International pageants? Calling me "traitor"?
Right now I just want to clarify this issue so we can move on with it..
MY ANSWER IS:
I WOULD LOVE LOVE LOVE LOVE LOVVVVEEEE LOVEEEEE LOVE LOOVVEEE LLLLLLLOOOOOOOOVVVVVVEEEEEEEEE!!!!! TO DRESS UP OUR COUNTRY'S DELEGATES!!!!
who would not want that!!!??? It will be a pride and honor to dress up a fellow filipino like MYSELF!
But folks you have to understand that it's totally out of my hand and not under my control. In fact I sent a message to the right hand and Assistant of Madam Stella Araneta to Genis to set a meeting with the Director herself but what i got was a seemingly blunt answer: "That's a good idea!" but he never got back to me...
I was requested by the pageant camp KF (Kagandahang Flores) to send a fashion design sketch for Nichole Manalo (Miss Globe) and Joanna Eden ( Miss Supranational) in fact I would love to dress up all our queens including Maxine, Kylie and Nicole even if it's for free!!! I know I'm not rich but i wouldnt mind a full sponsorship!!! It's for our country! but you knew what happened? Yes the designs I made for these 2 girls were absolutely beautiful... but It was REJECTED!!!
Everything started last 2014 when I was asked By KF to send the Pink Gown for MJ Lastimosa who politely asked me to create for her an Evening Gown. She said that she's willing to take the risk to wear it and break BPCI's rules and refuse to wear Barazza'S gown saying; "this is my last pageant and I want to make it count!" And I believed her but sad to say she didn't...
DO YOU KNOW WHY PIA WURTSBACH GOT THE PRIVILEGE TO WEAR A FILIPINO DESIGNER?
I was the one who paved the way... I was the sacrificial lamb! The guinea pig! We all know that BPCI prepared wardrobes for each girl and Pia is not an exemption.
It all started with me and Janicel Lubina Miss International Philippines 2015. BPCI requested me to create the National Costume for her and I was very happy and honored to do it. I was then requested to the bring the National costume to BPCI office. A week before that scheduled meeting Janicel visited me in my atelier and begged me to dress her up in the evening gown competition saying that she didn't like the gowns they gave her and showed me pictures of it; Truly the gowns were quiet typical and ordinary...
Going to the BPCI office I brought the national costume and the evening gowns with me and I was ecstatic and excited to meet Madam Stella but to my dismay it ended up in frustration because she didnt show up... The assistant Genis was there to meet us, in fact we took photos and videos with the costume and gown; And God she looked amazing on the masterpiece i made for her!
Janicel has this puppy-beggy look on her face begging Genis to wear the gown I made for her in the Miss International Pageant... Genis exclaimed "OK! I will take care of it and I will show the pictures to madam for approval. Now put those dresses in your suitcase and you're ready to go!
It was on the Pageant day itself that I realized that Genis did not send the pictures to Madam for approval. The other girls and KF told me that madam was furious, angry and mad to see Janicel wearing my gown on TV!!! I was shocked, worried, angry, surprise, sad and happy; it was a mixed emotion. Happy because she won the Best Dresser award or Best in Gown. For 17 years at last a Filipino designer has proven that we Filipinos are competitive and has that enormous talent to dress up our own delegates... but sad because technically it was a wrong move... Was it my fault? I was the one who's always trying to reach out and offer a hand to help... but been misunderstood and to my fellow filipinos I became the bad guy instead? Now where is the justice here?
Leo Almodal Leo Almodal Leo Almodal
I learned the hard way. NOW; I'm just a businessman, an independent entity and a very open minded individual. I dont have pageant camps or relation to any other companies or institution ;) My mission is to dress "women" and bringing out the best version of themselves.
To me "WOMEN" means: no nationality, no age limit not even gender (lesbian, femme, botch, lipstick, transgender, gay etc.) As long as you want to feel beautiful I will be here to cater and help ;) thank you and God bless us all :)" - Leo Almodal, October 26 at 11:05pm
READ ALSO: Paglilinaw lang! Si Clinton at hindi raw si Trump ang ini-endorso ni Ms. Grand International runner-up Nicole Cordoves
Some of the beauty contestants in the international pageants who won Best in Evening Gown awards while wearing Almodal's creations were:
Watch Miss Universe Great Britain 2016 finalist Jaime Lee Faulkner show off this lovely white Leo Almodal creation.
RELATED: Galing ng Pilipina! Pambato ng Pilipinas sa Miss Grand International nanalong first runner-up
Source: Kami.com.ph