- Facebook has suspended the account of an anti-Mocha Uson netizen on Monday, October 24
- Paul Quilet started on Sunday an online petition via the change.org to ban Mocha Uson Blog on Facebook because according to him, the page is disseminating wrong information
- Nevertheless, what happened is the reverse
READ ALSO: Prominent Filipinos who support Duterte vs. prominent Filipinos who support De Lima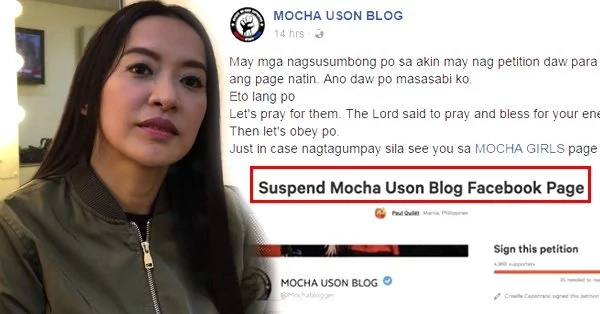 The tables have turned.
Netizen Paul Quilet who has started on Sunday an online petition seeking to suspend Mocha Uson Blog Facebook page got a taste of his own medicine.
The Mocha Uson petitioner revealed that his personal social media account was taken down by Facebook on Monday, October 24 at 10:30 pm. According to him, prior to the suspension, he received reprisals from people who sought out his own Facebook and reported it.
READ ALSO: Bongga! 9 impressive Pinay celebrities with astounding degrees
"My Facebook account has been reported. I have requested Facebook to have it reactivated ASAP," Quilet shared.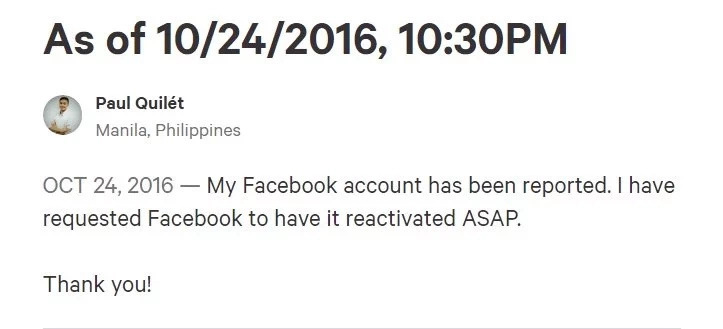 READ ALSO: 7 famous Filipino personalities who bravely lambasted President Duterte
Uson, as Quilet would put it, is propagating false news and is only promoting a bigger gap between the administration and the opposition of the current government through her Facebook page.
"Mocha Uson, a Filipino entertainer-turned-Duterte die-hard supporter uses her Facebook page to spread fictitious/unsupported claims, fake news, and false information about pressing issues in the Philippines, from the role the USAID plays in the country to news concerning government officials and other personalities, eliciting unwarranted hate from the public. The said Facebook page widens the rift between those who support the current administration and those who are critical of it."
READ ALSO: Mocha Uson spreads wrong information about Ateneo satirical mag, gets lambasted by students
The petition, which already gained 31,185 supporters as of writing, is not about taking away Mocha Uson's right to freedom of expression.
"This petition aims not to curtail anyone's right to free speech. Bear in mind that the liberties listed in the Bill of Rights are not absolute," Quilet said in a note.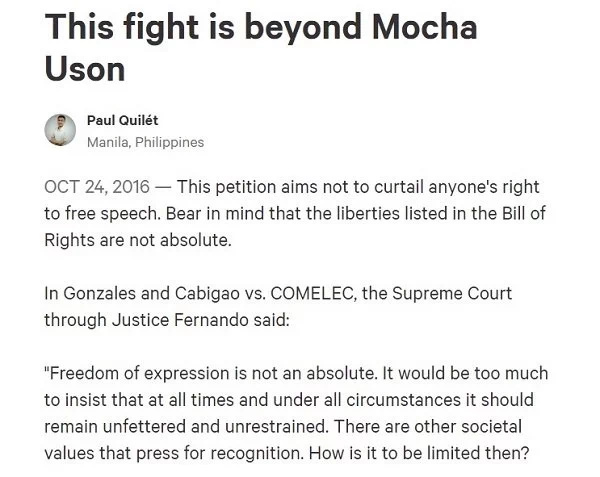 READ ALSO: Netizen unmasks the imbecility of Mocha Uson
In response to the petition, singer-turned-blogger Mocha Uson uploaded on Tuesday a mugshot with her mouth covered. The texts in her photo says, "If you can't handle the truth, silence it. We stand with Mocha."
And it looks like the odds are in favor of Mocha Uson, a known dedicated supporter of President Rodrigo Duterte.
RELATED: Mocha Uson slams Agot Isidro
Mocha Uson made this supposed last Facebook Live of her in case the petition to suspend her page succeeds.
Source: Kami.com.ph