EDITOR'S NOTE: This video contains themes and images that are not suitable for minors. Parental guidance is strongly advised.
CCTV footage showing a Filipino customer inside a restaurant physically attacking and threatening a waiter and then getting arrested by six off-duty cops went viral.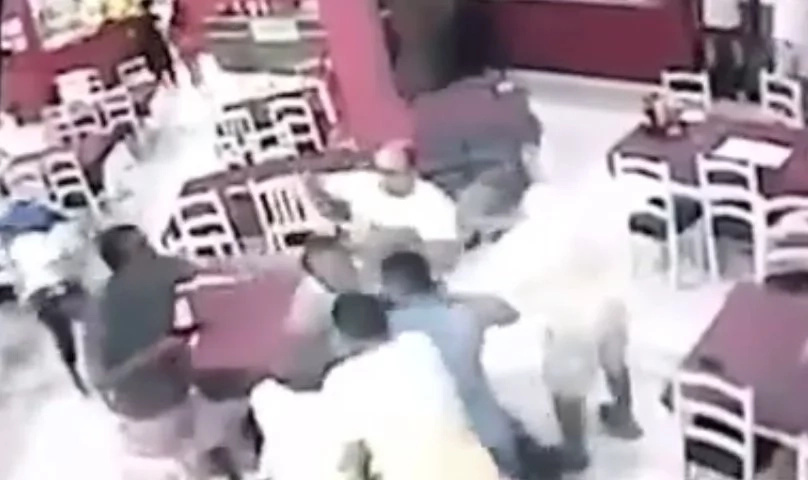 The video shows the aggressive customer approaching a waiter. After arguing with each other, the customer suddenly punched the waiter with full force.
The waiter fought back and was even able to slam the customer on the ground. However, it turned out that the humiliated customer was also carrying a gun.
Fortunately, six off-duty cops who were dining inside intervened and arrested the violent customer.
READ ALSO: Violent Asian man brutally beats up helpless woman in their house
Many netizens slammed the customer for his arrogance and violent tendencies.
"Kaya pala ma angas ang costumer may dalang baril… Huwag maging maangas porke may baril," the netizen who shared the video posted.
(The reason why the customer was acting tough was because he was carrying a gun. Do not act tough just because you have a gun.)
READ ALSO: Scary dragon-like creature caught on camera in China
Other netizens commented that the customer could possibly use his gun to kill in the future if he loses his temper again.
"Ito ang mga klase ng tao na nakakapatay dahil nanghihiram ng tapang sa baril," a social media user wrote.
(This is the kind of person who can kill because he draws his toughness from his gun.)
Several social media users also applauded the waiter for using his fighting skills to humiliate the customer.
"Magaling ang waiter alam nya o may alam sya sa self-defense," a social media user pointed out.
(The waiter is very skillful, he knows self-defense or has some knowledge of it.)
SHARE this shocking video with your family and friends!
Here is another video that will surely shock you!
READ ALSO: Daring thief caught on CCTV stealing valuables from parked SUV at Taft Avenue
Source: Kami.com.ph