- Pinoy Big Brother housemates Yong and Kisses were horrified when zombies visited the Big Brother house
- The two screamed and ran trying to get away with the scary zzombies
- The video which turned into comedy went viral gaining almost 3 million views on Facebook
Big Brother never fails to surprise his housemates with his crazy antics. Because Halloween is fast approaching, Kuya treated his housemates Yong and Kisses with a little scary trick that turned into some kind of a comedic scenario.
Kuya invited several 'zombies' to visit his house and scare Yong and Kisses. The zombies entered the house and waited for someone to welcome them.
While the housemates are inside their sleeping quarters, Big Brother asked Yong and Kisses to go to the confession room. The two then casually went out of the quarters but to their surprise, blood-thirsty zombies were scattered all over the place.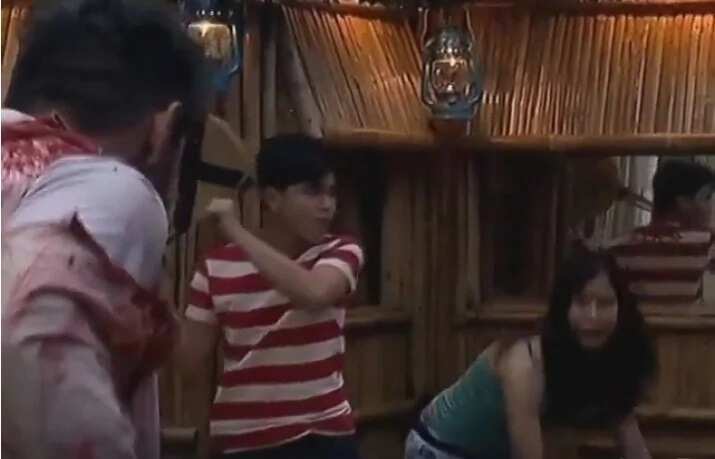 RED ALSO: Apologetic Marco says he values his friendship with Kisses
The two were extremely shocked, making Yong grab a nearby chair. He then warned the zombies not to get close to them while he asked Kisses to grab the other chair. But instead of getting the chair, Kisses picked up a pillow and jacket and used it as a shield.
When Yong told her to grab the chair, Kisses said: "Mabigat eh."
The two then started running towards the confession room. The two were still catching their breaths when Kuya started talking to them. Big Brother then asked them to go to the storage room to change their lapel's batteries.
READ ALSO: PBB housemate mourns during her temporary exit
Still scared, they slowly walked towards the storage room to get the batteries. However, a zombie nun was apparently waiting for them. Yong and Kisses screamed their lungs out as Kisses started getting the batteries while Yong waited outside.
The scary and funny video posted by a certain Shylle Gabriel Basalo already gained almost 3 million views in just one day with more than 126,000 shares on Facebook.
READ ALSO: Badjao Girl's touching send off with her father
Source: Kami.com.ph