- Matthew and Dalisay Dwinells, Christian missionaries, were facing criminal charges for allegedly taking minors at and orphanage in Bohol without proper and legal documents
- Officials of the Department of Social Welfare and Development (DSWD) along with the accused party have attended the inquest today
- The preliminary probe on the allegations will begin on Thursday
READ ALSO: Walang takot! Agot Isidro stands up against Facebook posers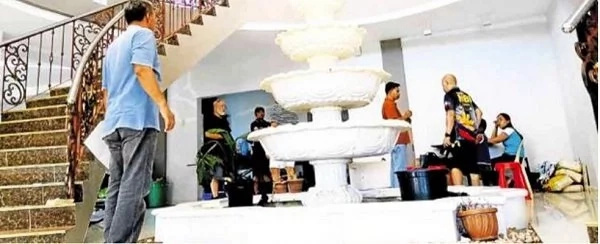 American couple Matthew and Dalisay Dwinells were charged with child abuse and human trafficking for violating the Anti-Child Abuse Law and the Anti-Trafficking in Persons Act of 2003.
Thirty eight children were rescued by the National Bureau of Investigation (NBI) officals from a two-storey house in Barangay Bool in the town of Tagbilaran, Bohol. They were under the custody of the Dwinellses through the Street Kids Mission Philippines (SKMP). Some of them were below the age of 12, 28 of them to be exact, of which 15 are girls and 13 are boys.
Charges were filed against the two Christian missionaries on Monday, October 24, before the Tagbilaran City Prosecutor's Office by the Department of Social Welfare and Development (DSWD).
READ ALSO: Daughter of trial justice to Agot Isidro: Ikaw ang forever Third World
Atty. Arcelito Albao, an NBI Bohol executive officer said that what the couple did qualifies as child abuse because they took the minors without consent from their families.
Tagbilaran City social worker Cirena Sia said the Christian couple are not permitted to take the children to Bohol.
"They can't even present a parent's consent ( referring to legal documents)," Sia noted.
READ ALSO: 7 famous Filipino personalities who bravely lambasted President Duterte
On the other hand, the couple denied the accusations and revealed that they are only after helping the kids.
"We are trying to serve God. We're trying to help children," Dalisay explained.
"We are trying to bring bondage out of poverty, you know," she added.
READ ALSO: Kapit lang Agot! Duterte supporter demands rice donations to save Agot Isidro from hunger
According to her, they are sending the children to school. Four of them are enrolled in college and the rest are in high schools and elementary.
Dalisay furthered that she and her husband brought the kids to Bohol because the cost living is lower in province and a safer place to stay in.
The SKMP which is one of the ministries of His Dwelling Church was founded in February 2010.
RELATED: Filipino celebrities who were involved in illegal drugs
Below is an inspiring video of a couple whose relationship is Christ-centered.
Source: Kami.com.ph