EDITOR'S NOTE: This video contains themes and images that are not suitable for minors. Parental guidance is strongly advised.
A shocking video showing an Asian man violently beating up a defenseless woman lying on the floor of their kitchen has caused outrage in the online community.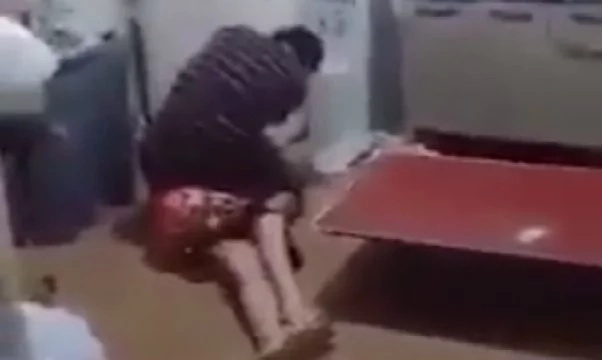 The violent Asian can be seen in the short video clip mercilessly punching a woman repeatedly with full force. Fortunately, another man arrived at the scene to stop the brutal beating.
The netizen who shared the video on Facebook did not explain the context of the disturbing clip but many social media users believed that the woman was beaten up by her own husband.
READ ALSO: Abusive husband repeatedly punches wife for cheating on him
Netizens slammed the man for using his strength to overpower, hurt, and potentially kill the woman.
"Ikulong dapat yang lalakeng yan," a netizen commented.
(He should be imprisoned.)
Some female social media users also urged the woman who was beaten up to leave behind her supposed husband for beating her up.
"Hinde pwede sakin yan... Lalaban ako at kung sakali hinde nya msusundan gawin yan skin... Once napagbuhatan ka hiwalayan mo n," a concerned female social media user posted.
(I will not allow that to happen to me. I will surely fight back and if he was able to beat me up, I will make sure that there will not be a follow-up. Once your partner raises a hand on you, leave him immediately.)
READ ALSO: Woman bravely confronts Asian pervert in 711 store
Several netizens also pointed out that there is never an excuse for a man to physically hurt a woman unless for self-defense.
"Kahit lumandi pa yang babae sa ibang lalake… At kahit ano pa ang nagawa nyan kasalanan nyan ipagpasya mo nalang sa Diyos at batas sa kanyang pagkakamali," a social media user explained.
(Even if the woman cheated on the guy… Even if she did something wrong, the man should just allow God and the law to punish her for her sins.)
SHARE this disturbing video with your family and friends!
Here is another video that will surely disturb you!
READ ALSO: Heroic citizens beat up snatcher on motorcycle
Source: Kami.com.ph