EDITOR'S NOTE: An earlier version of this column incorrectly said that Julio Diaz has passed away. However, it was his half-brother who died of cardiac arrest.
Mariano Regaliza Jr., the half-brother of the actor Mariana Regaliza, better known as Julio Diaz, passed away on Sunday night, October 23, after suffering a heart attack. He was 55 years old.
However, the Filipino online community was united in sadness and mourning after an incorrect news report of veteran Pinoy actor Julio Diaz's sudden death spread on the internet.
According to Julio's sister, Lulu Datuin, their brother died on Sunday night, October 23, due to a cardiac arrest at the age of 55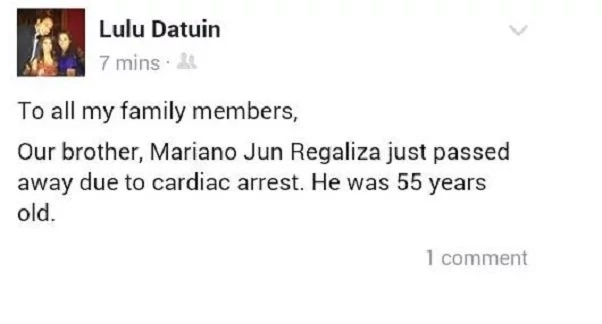 READ ALSO: Julio Diaz dies at 57 due to heart attack
Many netizens, who were misinformed that it was Julio Diaz himself who died, expressed their sadness online.
Several social media users also expressed their great shock that another Pinoy celebrity lost his life. Actors Dick Israel and Joy Viado passed away recently.
Other online users posted about their shock after receiving the incorrect news report that the actor died at such a young age.

READ ALSO: Jake Cuenca willing to undergo another drug test to silence doubters
The online community members also wrote about the acting prowess and versatility of Julio Diaz – considered as one of the best dramatic actors in the country. He was nominated for best actor in the movies "Sakay," "Bayani," "Takaw Tukso," and "Soliloquy."
Netizens who received the false news report also lamented that the Philippine cinema lost another one of its best actors. He appeared in acclaimed movies directed by award-winning director Brillante Mendoza such as "Ma Rosa," "Kinatay" and "Serbis."
Social media users also consoled the family of the actor, sending their condolences and prayer to his loved ones.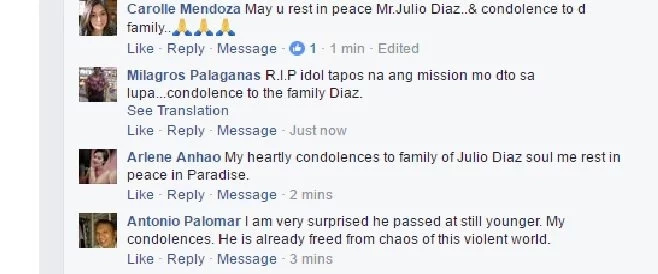 The video below will also make you feel very emotional!
READ ALSO: Albie Casino wants non-showbiz lover after Andi Eigenmann fiasco
Source: Kami.com.ph