Japan has a boobs beauty contest called Bioppai
It is celebrated every year and the crown passes from a winner to winner
The juror evaluates the beauty of boobs from a feminine perspective
Japanese have made a contest to select the most beautiful boobies in the area just because they admire the beauty in the female body and even more in that specific area.
The name of the contest was Bioppai which means "beautiful boobs". Who would have known that there is a word for that in Japanese.
The participants were evaluated by a very strict and rightful jury which was formed by 5 judges from which three were women.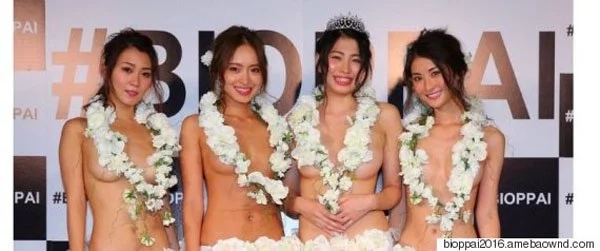 Interestingly, the contested aimed to evaluate the entrant's breasts' beauty from a female perspective taking into consideration different factors that other people may not think about.
The video shows many women standing showing what God gave them with a necklace made of flowers that covered the nipple area while answering questions and waiting nervously for the decision of the juror to call the new miss Bioppai.
This seems to be a contest with some tradition in Japan because one of the participant has a crown that later she will pass to the winner of this edition of the contest.
Source: Kami.com.ph