Lang Leav, Michael Faudet create poem for AlDub wedding
- International bestselling authors Lang Leav and Michael Faudet created special poems for the the AlDub wedding
- The two authors posted the poems on their Twitter accounts
- Maine and Alden had their wedding on Saturday, October 22
AlDub nation is most probably rejoicing and going crazy over their most awaited wedding — Alden Richards and Maine Mendoza's wedding for Eat Bulaga's Kalyeserye.
Netizens surely are all over social media before, during, and after the wedding on Saturday, October 22 and the AlDub fever did not only rocked the whole nation but also international writers Lang Leav and Michael Faudet.
Lang and Michael, who are known to be real-life partners, each created a special poem for the wedding of Maine and Alden. Lang posted the piece on her Twitter account entitled "Our Love":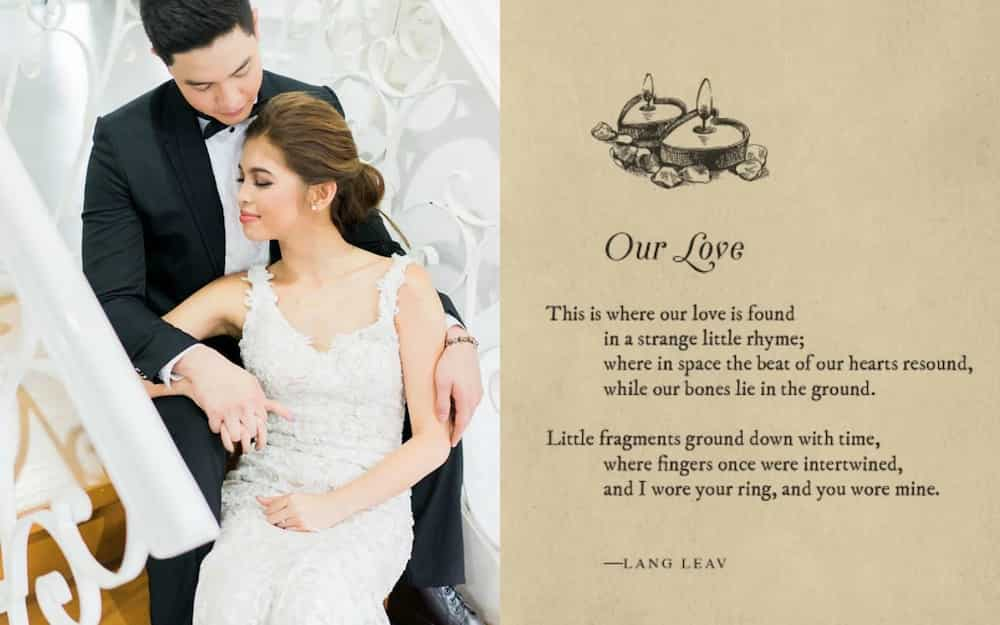 READ ALSO: Aldub wedding brings ultimate 'kilig' feels
"This is where our love is found
in a strange little rhyme;
where in space the beat of our hearts resound,
while our bones lie in the ground.
Little fragments ground down with time,
where fingers once were intertwined,
and I wore your ring, and you wore mine."
Michael also composed a sweet poem called "A Bell Does Sing" which he also posted on his Twitter account:
"A bell that tolls
with singing chimes,
confetti rain
from brilliant skies,
your hand in mine
is ours to keep,
the vows we said
I do, begin—
the love we grow,
from deep within,
on finger placed
a golden ring,
no rising sun
shall set again,
for joyous day,
a bell does sing."
READ ALSO: Netizens flood Twitter over Aldub wedding
Maine re-tweeted both poems and thanked the two authors.
Lang previously created a personalized poem for Maine when the actress wished that the bestselling author would create one for her on Valentine's Day.
Lang visited the Philippines in 2014 for the book signing of her poem collections "Love and Misadventure" and "Lullabies"
READ ALSO: Aldub shares kilig 'prenup' photos
Her first two books were followed by two more entitled "Memories" and her latest book "The Universe of Us".
Michael, on the other hand, keeps his personality private and has not yet revealed himself, yet he constantly inspires readers through his books "Dirty Pretty Things" and his newest title "Bitter Sweet Love".
READ ALSO: 7 reasons AlDub should be together
Source: KAMI.com.gh