- A photo of the past and present Encantadia Sang'gres meeting for the first time is now causing a buzz online
- Sunshine Dizon and Diana Zubiri who were both from the original telefantasya made a comeback with different characters, and what about the other two - Iza and Karylle?
- Will there be a reunion for the original Encantadia Sang'gres we loved before? That is the question
READ ALSO: Encantadia then vs. Encantadia now
In an Instagram post originally shared by Encantadia Director Mark A. Reyes, former and present cast - Kylie Padilla (2016 Sang'gre Amihan), Iza Calzado (Sang'gre Amihan of 2005 ), Glaiza De Castro (2016 Sang'gre Pirena), Diana Zubiri (Sang'gre Danaya of 2005), Sanya Lopez (2016 Sang'gre Danaya) and Karylle Tatlonghari-Yuzon (Sang'gre Alena of 2005) are seen posing in one photo.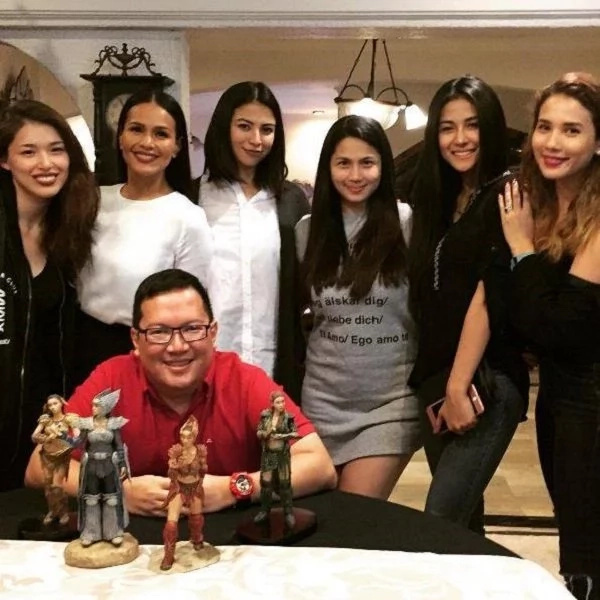 Needless to say, the picture itself is worth a thousand words!
Something... really... smells fishy. Could this mean there is more than meets the eye?
Let's wait what Encantadia has in store for its supporters. There has to be another compelling reason to get fans more excited about the show!
READ ALSO: 15 Stunning PH celebrities who look gorgeous even without makeup!
In the meantime, see more of their get-along-with-photos below.
Amihan 2016 meets Amihan 2005.
The old Amihan and old Muros (Arthur Solinap) from the original Encantadia series.
READ ALSO: 12 forever young celebrities who will make you believe that beauty has no age limit
Meanwhile, the original Sang'gres also had their own moment of nostalgia.
Both Iza and Karylle posted the same sister goals photo on their Instagram account with different captions.
missizacalzado: Flashback Friday. we didn't really have social media back then so here we are, years later, acting like the Millennials that we truly are! We are kinda complete here, @m_sunshinedizon Happy night as we finally got our much coveted "present" from Bathala.
anakarylle: Missing you @m_sunshinedizon happy to hang with sistah @dianazubirismith and cuziska fajizadora @missizacalzado thanks for the gift I've been bugging you about @direkmark
Despite Sunshine Dizon's absence that time, the past Sang'gres know they still have her in spirit. And she is actually in this photo, Sang'gre Alena holding miniature Sang'gre Pirena. Just... sweet.
READ ALSO: Bongga! 9 impressive Pinay celebrities with astounding degrees
"Missing you @m_sunshinedizon," wrote Iza in her caption.
READ ALSO: Prominent Filipinos who support Duterte vs. prominent Filipinos who support De Lima
The past and present cast of Encantadia spent some quality time to have dinner together.
Here is a throwback episode from the original series.
RELATED: Delighted netizens celebrate Diana Zubiri's return to Encantadia
Source: Kami.com.ph