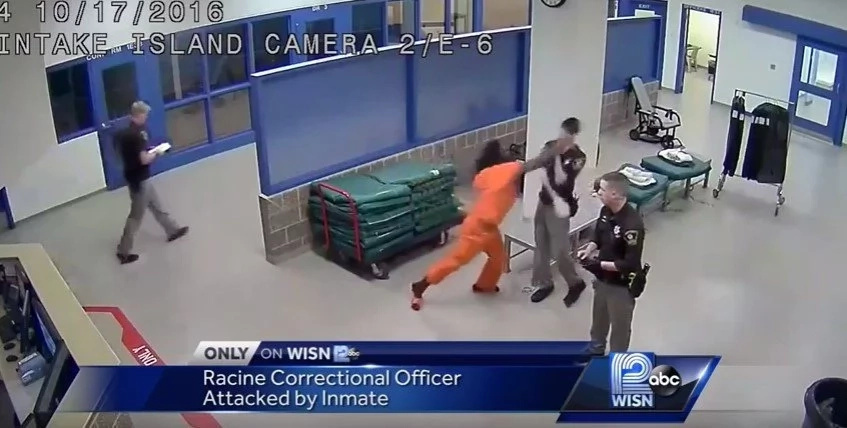 - CCTV captured footage of how a violent inmate sucker punched a corrrectional officer in the jaw
- Another officer quickly wrestles the inmate to the ground and holds him there until more officers rush in and hold him
- The inmate had to be strapped to a chair and put in a padded cell becuase he would scream all night
CCTV caught the terrifying moment an inmate sucker punched a correctional officer in a jail in Racine, Wisconsin.
17-year-old Deonte Anderson was charged for an armed robbery and he was being led to his holding cell when all of a sudden Deonte turned around and punched the officer that was leading.
Christopher Schmaling, the Racine County Sherriff, stated: "For unknown reasons and as a surprise to my staff he turned and it became very violent very quickly."
.Another officer quickly wrestled the riotous inmate to the ground and held him pinned until his partner got up and other officers burst into the room to help him.
READ ALSO: Redneck Ninja Will Save Everyone From Killer Clowns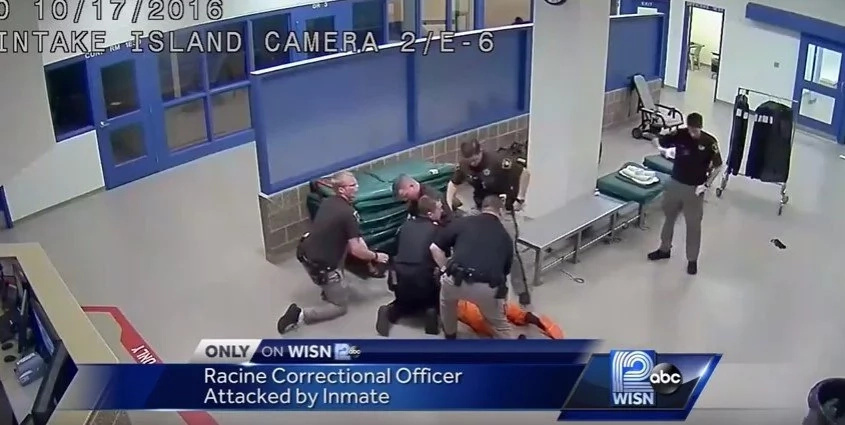 The country Sherriff applauds the officer's quick thinking and their bravery that they risk their lives everyday they work at these correctional facilities, guarding violent inmates such as Deonte Anderson.
The inmate became even more violent after the fight. In fact he was so enraged that officers had to strap him to a restraint chair to try and calm him down.
However, that proved little help and he was screaming all through the night so it was decided that he should be placed
"My officers very quickly reacted and brought him down and arrested him, and just to look back at this it underscores just how dangerous a job these correctional officers have each in every day," Schmaling said.
Schmaling said the inmate became so violent and uncontrollable that he had to go into a restraint chair until he calmed down.
That didn't last long. Anderson was screaming all night that officers had to put him in a padded cell.
The punched officer was okay and didn't skip a day of work.
READ ALSO: An Amateur Boxer's Badass Knockout Punch Goes Viral
READ ALSO: Is This A Pterodactyl Or A Dragon? Winged Creature Spotted In China
Source: Kami.com.ph