- President Rodrigo Duterte made jokes around his cabinet members who graduated as valedictorian
- Duterte said that they may be valedictorians but they are his workers
- Some of his cabinets members are Foreign Affairs Secretary Yasay and Defense Secretary Delfin Lorenzana
President Rodrigo Duterte is well-known for his wit and humor. Many of his friends describe him as a happy and funny person who likes to joke around.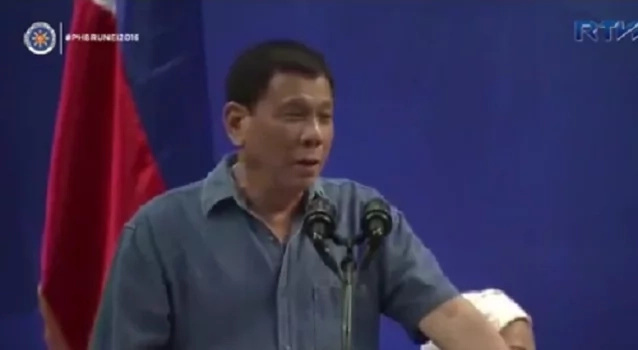 READ ALSO: Duterte warned by solon about making deals with China
This is true especially when the President holds press conferences with the media. And recently, Duterte did not fail to make us laugh again.
In a video posted recently, the President enumerated all his cabinet members who graduated as valedictorians.
The video went extremely viral and has already garnered over 64 thousand shares and over 1 million views.
Duterte told the audience his stories with his cabinet members such as Yasay and Lorenzana who both graduated as valedictorian.
"Si Sonny Dominguez kababata ko 'to sa Davao since Kindergarten. Valedictorian 'yan. Pagdating namin sa high school second year, nasipa ako. Siya patuloy ang valedictorian valedictorian," said Duterte, leaving the audience, especially Sonny Dominguez, laughing out loud.
READ ALSO: Duterte announces separation from the US during China visit
(Sonny Dominguez is my childhood friend in Davao since Kindergarten. He was a Valedictorian. When we went to second year high school, I was kicked out. He was still valedictorian.)
After targeting Dominguez, Duterte now turned to Yasay and said that he was roommates with Yasay who was studying then in UP while he was at San Beda law school. Yasay also graduated as valedictorian.
Jesus Dureza also became Duterte's target when he narrated, "Doon ako napunta sa high school na andoon si Dureza. Naabutan ko siya, nauna pa siya grumaduate sa akin! Totoo! Dureza was a valedictorian."
READ ALSO: Mga bagong kaibigan! Hopeful Duterte says PH, China, Russia against the world
(I went to the high school where Dureza was. I met him and still graduated first that me. It's true!)
The other cabinet members whom Duterte talked about were Defense Secretary Delfin Lorenzana and John Esperon, adviser for national security.
At the end of the video, Duterte said, "Oh tignan mo, tignan mo ang buhay. Trabahante ko lahat!"
(Look at how life works, they are all my workers!)
Watch the video below and laugh at Duterte's jokes with his cabinet members!
Source: Kami.com.ph