EDITOR'S NOTE: This video contains themes and images that may not be suitable for minors. Parental guidance is strongly advised.
CCTV footage showing a courageous Thai woman's intense encounter with a robber inside a jewelry store has swept the online community, with many netizens applauding the woman for her presence of mind in apprehending the criminal.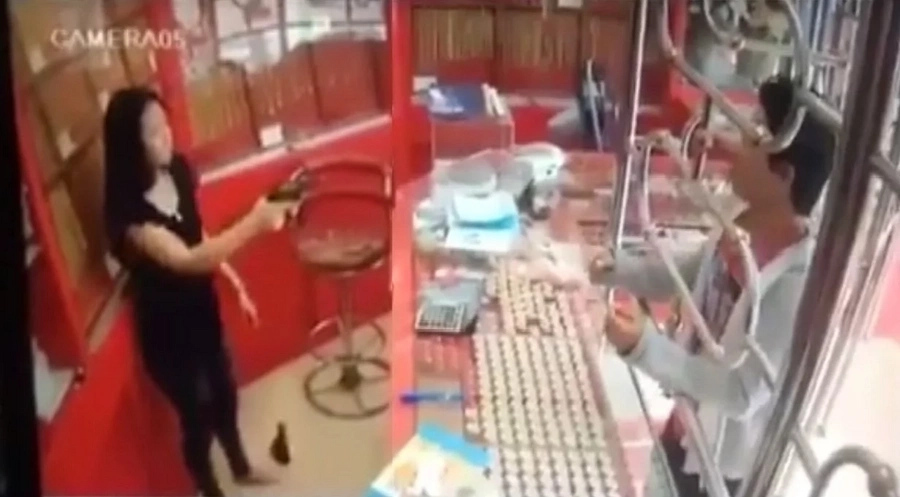 "Importante ang may protection sa business. Tulad sa mag nanakaw ng alahas. Nagulat si kumag ng tangkang itakas ang alahas," the netizen who shared the video posted.
(It is important to have a business protected, as shown in this video of a jewelry store robber. The fool was surprised when he tried to steal jewelry.)
READ ALSO: Crazy stray dogs caught on CCTV destroying parked car
The video shows the woman entertaining a man in the store until the latter revealed his true intention – to rob the store!
However, little did he know that the woman has a gun on the counter. When she pointed the gun at the robber, the latter tried to escape only to find that the door has already been locked.
He then can be seen begging the woman to allow her to escape.
Netizens applauded the woman for being calm and collected while using her gun and for having the presence of mind to lock the door through a secret button on the counter.
READ ALSO: Clumsy customer destroys TVs inside store worth P300K
Several netizens hoped that the woman fired her gun on the robber instead of waiting for the police to arrive.
"Sana pinutukan mo na.. Para mabawasan mga salot ng lipunan.. May ebidensya ka na e," a netizen wrote.
(You should have shot him so that the society will have one less criminal. You have evidence against him anyway.)
SHARE this video with your family and friends!
Here is another intense video that will surely thrill you!
READ ALSO: Abusive Pinoy husband beats up helpless wife inside PUV
Source: Kami.com.ph