- President Rodrigo Duterte visited China with over 200 businessmen to fix relations with China
- In a statement, Duterte said he would be separating with the US and would be starting anew with China and Russia
- Duterte said that the US has insulted the country enough and would be slowly separating from the 71 years alliance
In his visit in China, President Rodrigo Duterte announced that the Philippines would be moving away from their alliance with the United States and creating stronger ties with China and Russia.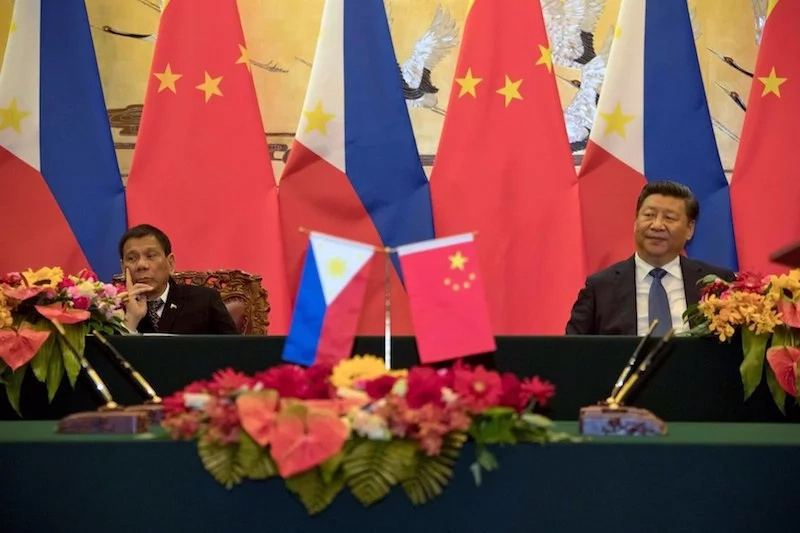 "I've realigned myself in your [China] ideological flow and maybe I will also go to Russia to talk to (President Vladimir) Putin and tell him that there are three of us against the world - China, Philippines and Russia. It's the only way," Durterte said.
READ ALSO: Duterte severs PH-US ties, offloads PH economic strains on China
Duterte's statement marks the reversal of more than 70 years of alliance the Philippines had with the United States.
"America has lost now," the President said. "With that, in this venue, your honors, in this venue, I announce my separation from the United States."
READ ALSO: Wag magtitiwala: Worried lawmaker warns Duterte about making deals with hostile China
President Xi Jinping said that Duterte's visit is a milestone. The two leaders are set to appropriately hand disputes, alluding to the South China Sea.
"I hope we can follow the wishes of the people and use this visit as an opportunity to push China-Philippines relations back on a friendly footing and fully improve things," the Chinese head of state said.
READ ALSO: Duterte claims God sent him on divine mission to rescue Philippines
According to Duterte, the Philippines is going to rely more on China. He said that his decision was influenced by the condemnation of the United States on the President's war on drugs.
"I will not go to America anymore. We will just be insulted there," Duterte said. "So time to say goodbye my friend."
Source: Kami.com.ph