EDITOR'S NOTE: This video contains themes and images that may not be suitable for minors. Parental guidance is strongly advised.
On Tuesday, health officials found at least 120 unclaimed and decaying corpses in Henry's Funeral Homes located in La Loma, Quezon City.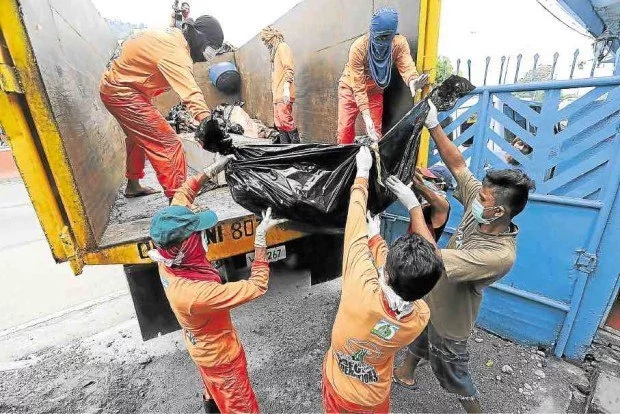 According to Dr. Verdades Linga, part of the team that inspected the funeral home, the cadavers were already in an advanced state of decay, attracting flies and rats around the area.
"It's difficult because some of the bodies have decomposed down to the bone while others have badly mangled flesh," the doctor said in Tagalog during a radio interview.
READ ALSO: Duterte warned by solon about making deals with China
Linga said that the team removing the corpses from the funeral home are also having a difficult time doing so because of the severity of the smell.
"We are now removing the dead... The stench is so bad that even those collecting the corpses are complaining," Linga added.
It turns out that the local government has already ordered the closure of the funeral home but the morgue continued to accept unidentified and unclaimed bodies.
The stench of the decomposing bodies spread to the nearby houses causing some of the residents to become ill.
READ ALSO: Iloilo girl with rare skin disease asks netizens for help
Linga explained that the morgue might be penalized for continuing its operations despite being ordered by the Quezon City government to close down their activities.
Several netizens expressed their shock and disbelief of what the officials found in the morgue!
"Kawawa naman yung mga namatay! Hindi nirespeto ang mga labi nila," a social media user said.
(I pity those who died! Their remains were disrespected.)
SHARE these scary and disturbing videos with your family and friends!
Thought that was disturbing? The next video will disturb you as well.
READ ALSO: Biased referee gets knocked out by angry boxer
Source: Kami.com.ph