- The violent incident at the US Embassy yesterday resulted to the firing of 9 Manila police
- Anti-US protesters were run over by the police van which was controlled by one of the policemen
- Many protesters were wounded, however, Manila police said it was only an accident
Nine police officials of the Manila Police District (MPD) were suspended after the brutal incident at the US Embassy Manila where anti-US protesters were run over by the police van last Wednesday afternoon.
READ ALSO: Duterte expresses willingness to lose presidency for what he thinks is right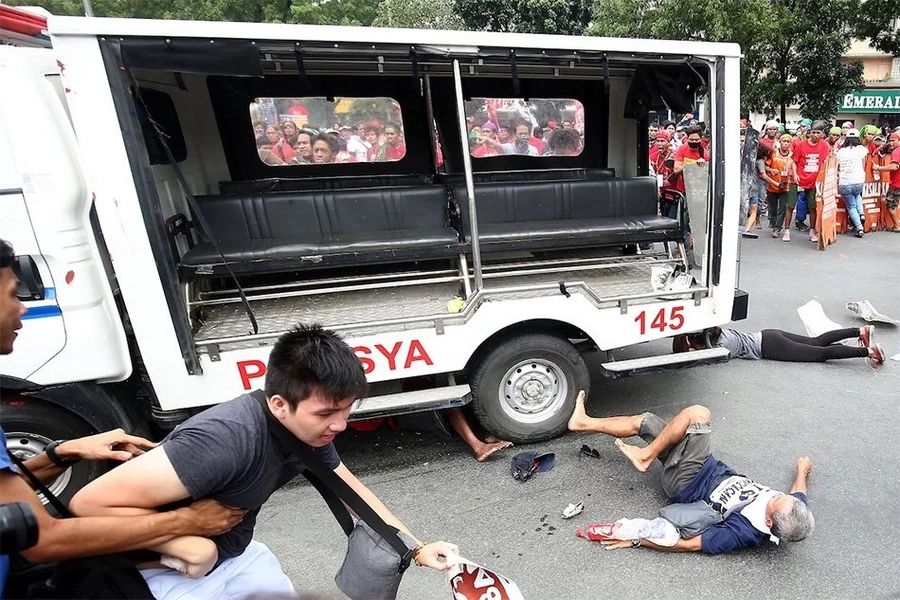 According to National Capital Region Police Director Supt. Oscar Albayalde, included in the suspended police officials is Senior Supt. Marcelino Pedrozo, Deputy Chief for Operation of MPD.
Albayalde provided assurance that he will bring justice to the protesters by investigating further in the incident that led to the violence between the police and the protesters.
READ ALSO: Duterte warned by solon about making deals with China
Moreover, Albayalde defended the protesters that they have the right to protest even without a permit because it is part of their right to freely express their voice, however, this must not involve any violence.
As narrated by Bayan Secretary General Renato Reyes, over 1,000 people marched to the embassy to protest when the policemen used tear gas when their program was almost ending.
Some of the militants belonging to the protest were wounded after they were run over by the police mobile driven by Police Officer 3 Franklin Kho.
Kho defended himself and said, "Inaagaw na ng mga rallyista yung sasakyan eh, kaya napilitan akong kunin ko ung sasakyan, kaya napaatras ko. 'Yun ang nangyari. Wala naman kaming intension na gawin sa kanila 'yun."
READ ALSO: Police van rams militants at anti-US rally
(They were trying to snatch the car from us that is why I was forced to drive the vehicle, and drove backwards. That was what happened. We didn't have any intention to do that to them.)
Further, Pedrozo also said that they implemented maximum tolerance but the protesters disrespected them.
"Hindi po sinasadya 'yun, binabasag po nila 'yung salamin nung ating government vehicle. Ang kagustuhan lang naman po ng pulis natin, alisin po yung mobile car sa lugar na 'yun. Hindi po talaga sinasadya kung may nasaktan," Pedrozo explained.
Many Filipinos were enraged by the incident and were calling for justice for the wounded protesters.
Watch this video below to see what the policemen did to the protesters!
Source: Kami.com.ph