EDITOR'S NOTE: This video contains themes, images and language that are not suitable for minors. Parental guidance is strongly advised.
A video clip that was taken inside a public utility vehicle van showing a heartbroken Filipino man beating up his wife for allegedly cheating on him with another man went viral, with netizens outraged by the abusive behavior of the husband.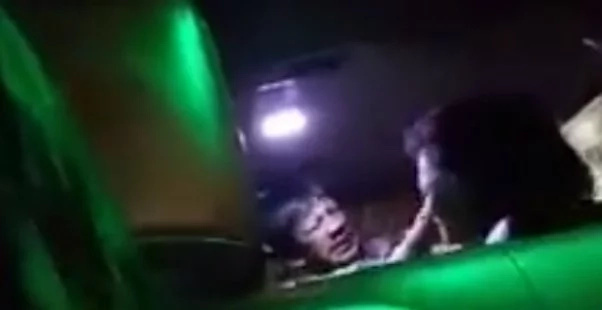 The video starts off with an intense and scary argument between the husband and the wife about the alleged cheating of the latter. After shouting at each other, the man begins to repeatedly punch his helpless wife with full force.
The wife tried to fight back but the husband kept on hitting her and cursing at her. She can also be heard asking the other passengers to tell the police about her husband's abusive ways.
Fortunately, things calmed down when the driver told the husband to stop shouting and hurting the woman.
READ ALSO: Clumsy customer destroys flat screen TVs worth P300K
Many netizens slammed the husband for being abusive towards the woman.
"Minura mo na tapos sinaktan mo pa! Wala ka karapatan gawin yan," a netizen said.
(Cursing at her was not enough for you, you had to hurt her as well! You do not have a right to do that.)
Sadly, other social media users defended the man, saying that it was natural for him to get angry because he was cheated on.
"Wag po tyo maging 1 sided oo pareho silang may kasalanan.. Natural lang sa isang tao ang magalit kapag nahuli ang minamahal na niloloko ka pala," a social media user posted.
(Let us not be one-sided, both of them were at fault… It is natural for a person to get angry if he catches his loved one cheating on him.)
READ ALSO: Crazy dogs caught on CCTV destroying parked car
However, other netizens pointed out that there is no excuse for hitting a woman.
"Kung niloko ka iwan mo… Pero mas konting katiting wla k karapatan manakit," a social media user pointed out.
(If you were cheated on, then leave her behind… You still do not have a right to hurt her.)
SHARE this shocking video with your loved ones!
Here is another video that will surely shock you!
READ ALSO: Biased referred gets knocked out by angry boxer
Source: Kami.com.ph