- A KFC branch in Bulacan recently started a green movement that hopes to eliminate frequent use of straws
- Someone posted it online to applaud what they're doing
- Netizens generally praised the initiative but there are a few who criticized it as well
Everyone knows that global warming along with various ecological and environmental problems that are happening in the world right now is because of our past mistakes. Improperly disposed trash, mainly plastic items, is one of the main causes with our current dilemma.
Many sea animals like fishes and turtles are affected when trash is thrown at the sea because plastic items take a very long time to decompose. On land, these trashes can cause flooding, sickness, and many more devastating results.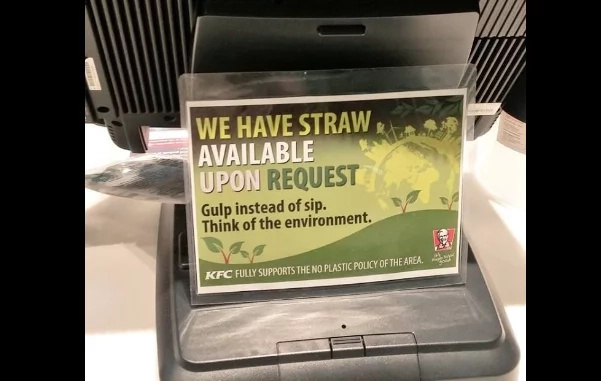 In the Philippines, many establishments and cities have started to take a move on saving the environment. Cities like Quezon City and Cebu City are banning the use of plastic especially in groceries. What groceries do in these cities is use paper bags or unused boxes in place of plastic bags. They also encourage people to bring their own reusable bags.
READ ALSO: Palaban si Digong! Daring Duterte challenges his fierce enemies to impeach him
This small step has made a big impact in the lifestyle of some Filipinos because they aren't reliant on plastic bags anymore.
Now, a new movement is being started. It started in KFC San Jose del Monte City, Bulacan branch where they discouraged their customers to use straws. They have a sign by the payment counter saying that their straws are only available upon request. It also said: "Gulp instead of sip. Think of the environment."
This movement of not using straws is being practiced in other countries and people are glad they're introducing this here. In fact, Facebook user Peter Olivar decided to share it on his Facebook account because he was delighted to see it.
READ ALSO: Bato's drug war receives praise from ASEAN police chiefs
According to him, he praises KFC for this and he hopes that other restaurants will also follow suit.
Most people commented on his post that this is an amazing deed and they're happy for this kind of commitment from the fast food restaurant.
There are others, however, who don't like the idea of gulping at their drinks. A few commented that the restaurant should make sure first that their utensils including the glasses are thoroughly cleaned. Some even brought up drinks that do need straws like milkshakes and floats.
READ ALSO: 7 realistic reasons why the Philippines should stick with the US
Overall, this may seem like a miniscule thing but it is actually a huge step in saving the environment. Just like Olivar's wish, we also hope that other restaurants pick this up as well.
RELATED: 7 reasons why Marcos shouldn't be buried at LNMB
Source: Kami.com.ph