Showdown between supporters of Roxas and Duterte in Luneta, announced
Filipino tour guide and online personality Carlos Celdran is calling for a "Silent Sit-in" at the Quirino Grandstand on Sunday, April 24, before the presidential debate. Community page "Digong Duterte supporters" (DDS) have also announced "Occupy Luneta" - a gathering on Saturday, May 7.
It was April 17 at 2:11pm when Spanish Filipino tour guide and online personality Carlos Celdran suggested a silent gathering at the Luneta Park in the group "The Silent Majority" in support of Lakas Party standard-bearer Mar Roxas and Vice Presidential bet Camarines Sur Third District Representative Leni Robredo: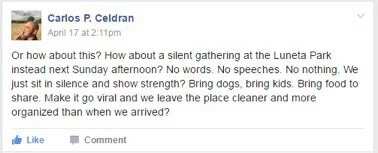 On April 19 at 10:11am Celdran posted the details on his timeline in Filipino, stating it will be held at 4:00pm on Sunday, April 24. He also created an event page saying:
I am sick and tired of all the hate, harassment, and lies that we've been fed online these past few months before #Halalan2016. No other time in recent history have I ever seen the internet used for so much disinformation and bullying.
So if you share my sentiments, let's turn this situation around.
Do you want to end the hate? Do you truly believe that the next election should be determined by platforms and not by trolls and misguided morals? Do you want to show your support for decent, intelligent Philippine voters and citizens?
Then please come down to Luneta at Kilometre Zero/Burnham Field next Sunday afternoon. April 24 at 4:00pm
The "Silent Sit-In" will be literally a quiet gathering. There will be no stages, no speeches, no loud bands, and no shouting. As a group, we will occupy the Luneta with good vibrations and love for our city and country.
We will bring our dogs, our families, our neighbours and friends. We will bring bicycles, we will bring picnic baskets, we will play games, we will fly kites, we will share food and have quiet conversations. Most especially, we leave the park cleaner than when we arrived. Please bring your own trash bags.
We will act like the society that we want to realize in this country.
By the way, this gathering is open to ANYONE. Come and join the fun, regardless of your political inclination, nationality, sexual orientation, social class, height, weight, or religious beliefs. Wear any color you like. But remember it's organized by #SilentMajority, myself and MarLeni volunteers, so please be polite and decent and let's exchange our ideas properly. Don't let the colors get in the way of deceny.
So if you truly believe the Philippines can be a better place and that the best is yet to come, join us in silence and solidarity. We can even monitor the Presidential debates from the field. There's free wifi at Luneta. I'm bringing a transistor radio. Hopefully, I can find an LED screen for us to share.
April 24. Sunday. 4:00pm until sunset. Luneta Park. Burnham Green.
P.S. Of course, when I say silent, I mean you can talk, laugh and chat. Just NO loudspeakers."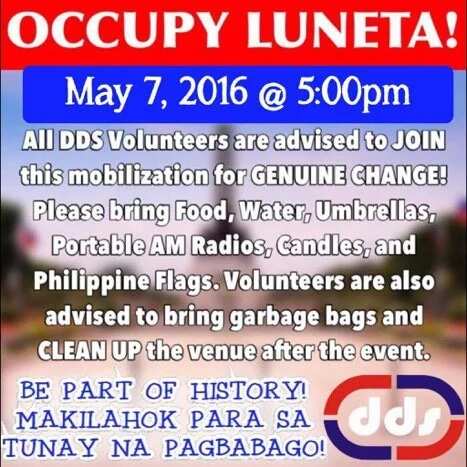 Also on April 19 at 6:41 pm the DDS group created an event page announcing "Occupy Luneta" - a gathering of the Davao Mayor's supporters at 5:00pm on Saturday, May  7:
Both Celdran and the DDS remind attendees to bring food, water, friends and relatives, and portable radios.
With a report from Marian Pacunanan.
Source: KAMI.com.gh