- CCTV footage of a group of dogs destroying the front part of a parked car went viral
- Some netizens theorized that the dogs might have been angered by the smell of dog's urine at the bumper and fender of the car
- Other social media users also theorized that the car might have hit one of the dogs before it was parked on the side of the street
A strange CCTV video clip showing a pack of angry stray dogs destroying the bumper and fender of a parked car on the street has gone viral, with many netizens posting different theories on why the dogs went crazy over the vehicle.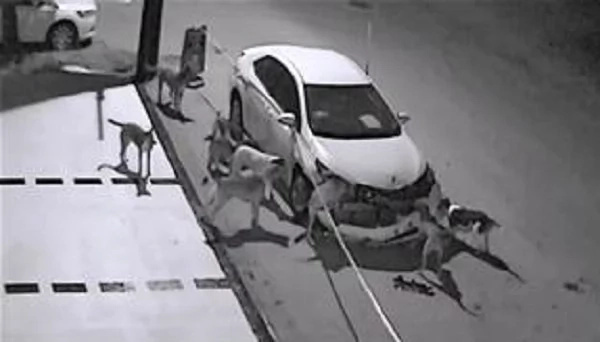 The video shows a white car parked on the side of the street. A few moments later, a group of dogs arrives inspecting the parked car.
The dogs then went crazy and started to aggressively bite the front part of the vehicle. Due to the dogs' strong bites and aggressiveness, the bumper of the vehicle was completely destroyed.
READ ALSO: Heartbreaking video shows girl with skin disease asking netizens for help
Many netizens were divided on what made the dogs very angry at the parked car.
"Instinct yan ng mga aso malamang Yung fender at bumper ay naihian ng aso sa ibang lugar kayat akala siguro ng mga Yan may aso sa loob ng kotse dahil naaamoy nila ang ihi ng ibang aso..Very teritorial sila handang makipagsagupa Pag may ibang aso sa teritory nila," a netizen theorized.
(That is an instinct of dogs. The car's fender and bumper might have been urinated on by dogs from another and place and that is why they thought that there were dogs inside the car. These dogs are very territorial and they are willing to fight any dogs who try to invade their territory.)
READ ALSO: Amateur boxer KOs biased referee
Other netizens theorized that the car might have hit one of the dogs before it was parked on the side of the street.
"Baka naman may nabanggang aso yang kotse bago siya magpark kaya galit yung mga ibang aso," a social media user said.
(Maybe, that car hit a dog before it was parked and that is why the other dogs are angry at it.)
SHARE this mind-boggling video with your family and friends!
Thought that was mind-boggling? Here is another bizarre video for your viewing pleasure.
READ ALSO: Pinoy caught on camera affectionately giving his old mother a bath
Source: Kami.com.ph