EDITOR'S NOTE: This video contains themes and images that may not be suitable for minors. Parental guidance is strongly advised.
A video of an amateur boxer knocking out and beating up an old and defenseless referee for being bias against him went viral, with the online community divided on who was at fault for the shocking incident.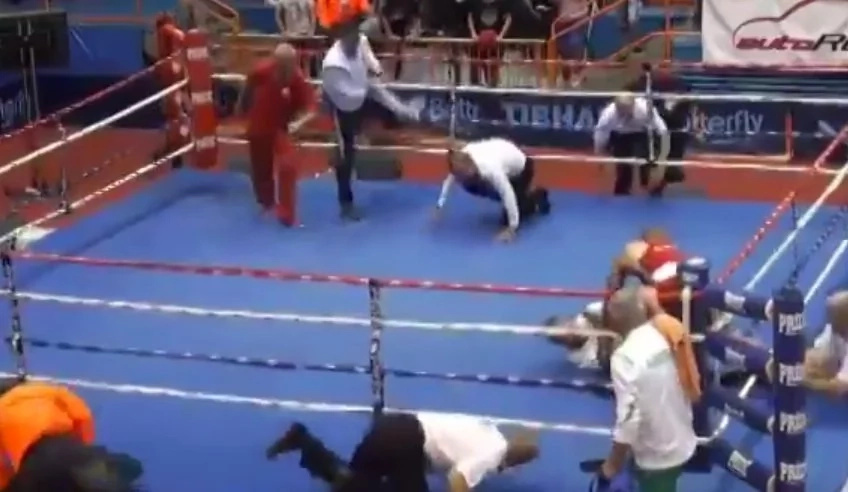 The video begins with the boxer in the red shirt getting stunned with a series of punches by his opponent in the blue shirt.
Despite not getting knocked down, the referee decided to count to ten. The boxer in the red shirt then showed the referee that he is fine and is still willing to fight.
However, the referee inexplicably stopped the fight. The frustrated and disappointed boxer retaliated by knocking out the official and then relentlessly beating him up while he was already down.
READ ALSO: Filipina beats up female foreigner in front of a huge crowd
Some netizens slammed the referee for being biased against the boxer in the red shirt.
"Yang boksingero nagpapakamatay sa ring pati sa training tapos papatigilin mo lang kahit kaya pa lumaban? Nagulpi ka tuloy," a netizen said.
(That boxer makes a lot of sacrifices in the ring and during training and then you will just stop the fight even if he can still fight? That is the reason why you got beaten up.)
Other social media users defended the referee, saying that the rules for an amateur fight are different from a professional boxing match.
"Wag kayo komento ng komento, alam ko na iba rules ng amateur boxing," a social media user wrote.
(Do not just comment whatever you like to comment, I know that the rules are different in amateur boxing.)
READ ALSO: Arab almost kills 2 children while playing with his gun
Several netizens also said that the boxer should not have resorted to physical violence in order to protest his loss.
"Kahit pa nadaya siya, hindi sagot yung mang bugbog siya," a social media user pointed out.
(Even if he was cheated, that is not an excuse to beat up someone.)
SHARE this shocking video with your family and friends!
Here is another video that will shock you!
READ ALSO: Armed robbers get shot by heroic security guard
Source: Kami.com.ph