- President Rodrigo Duterte is widely known for his tough talking and iron first
- Although many criticize his administration, the President has many supporters
- One of these is this foreigner who was seen wearing a Duterte baller and says that Pinoys are lucky to have him
President Rodrigo Duterte has been the talk of the town in many countries because of his tough talking and "different" kind of leadership.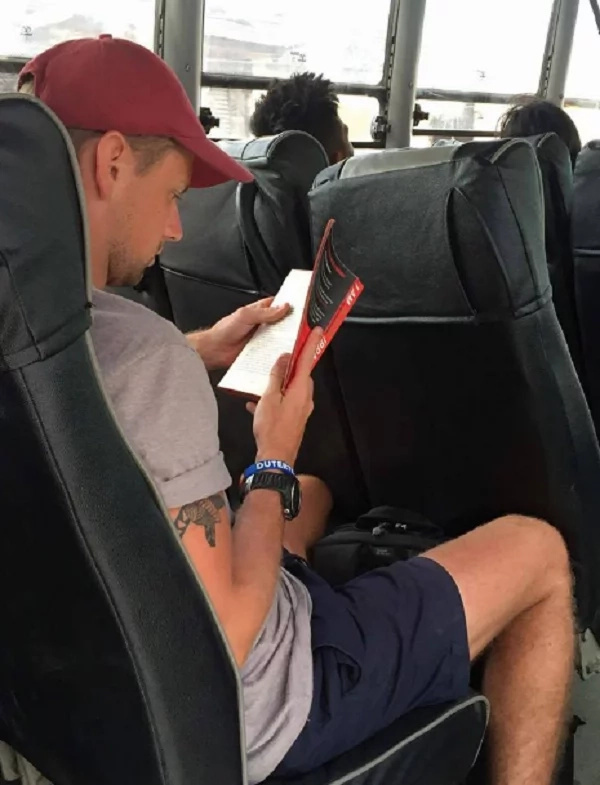 READ ALSO: Geraldine Roman proves to be an inspiration to the LGBT
While many citizens criticize his administration and his campaign against illegal drugs, there are still many who admire and support the President.
One of these supporters is a foreigner who was spotted wearing a Duterte baller, which was probably given during the campaign of the President during last elections.
A netizen named Ian Lapayo was on his way to Cebu on Ceres Bus #8410 and he was the one who saw the foreigner. Despite the end of the elections, the netizen was surprised that the foreigner was still wearing the baller while some of Duterte's supporters don't even wear the baller now.
READ ALSO: SWS poll shows Filipinos trust US more than China
To his curiosity, he approached the foreigner and asked how he got the baller and why he was still wearing it.
The netizen was surprised when the foreigner responded, with all honesty, "I didn't see this guy personally (President Duterte) but I knew him through world news and social media, and I find him really great as a president in your country. We, Americans, are hoping to have this kind of leader in our country who is very straightforward and a lot to his country."
Moreover, the foreigner thinks that Filipinos are lucky to have Duterte.
READ ALSO: Duterte signs EO postponing barangay and SK elections
"You are so lucky to have Duterte as your president. So just take care of him by showing your support and love to him," added the foreigner.
Although they did not continue the conversation, the netizen said that he was truly shocked at how the foreigner admires and appreciates what Duterte is doing for the betterment of the Philippines.
What do you think of the foreigner's reply? Watch this video and listen to how another foreigner thinks of Duterte!
Source: Kami.com.ph