- CCTV footage captured the funny moment a customer in an electronics store accidently broke four flatscreen TVs
- The customer was fiddling with the control of one TV when he accidently knocks it over and teh TV next to it topples like a domino. He takes a couple of steps back from the shock and knocks over two more expensive TVs
- The clumsy man stands there grabbing his head in shock from all the damage he caused in a matter of seconds
This hilarious CCTV footage captures the moment a clumsy customer breaks four expensive flatscreen screens in an electronics store.
The curious customer approaches a flatscreen television standing back to back to another flatscreen. The customer takes a look around the TV and decides that he wants to check its functions so he squats down in front of the telly and begins to fiddle with the buttons.
READ ALSO: Killer Clowns Cause US Stores To Stop Selling Creepy Clown Masks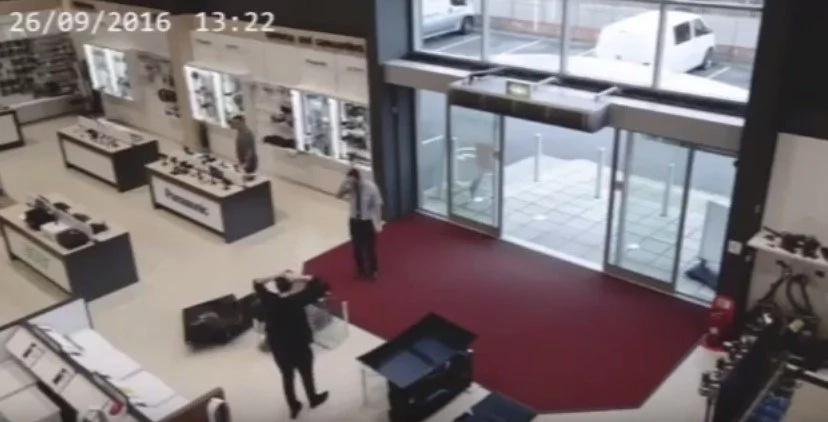 However, he clumsily pushes the TV and like a domino it pushes to the TV it was standing with its back towards.
When the customer sees the two expensive pieces of hardware fall to the ground he's so shocked that he takes a couple of steps back and accidently bumps into a another television with his butt. The same thing happens with these two expensive flatscreens. Like dominos they topple to the floor as the customer turns around in shock to witness more of the damage he caused.
The cameras capture his shock as the customer stands with his hands grabbing his head in utter shock. The sales manager in the room is shocked as he tries to lift the television back up and grabs his head as well when he sees the extent of the damage.
READ ALSO: Man As Strong As A Bulldozer Sets World Strength Record
READ ALSO: Wife Brutally Beats Husband's Side Chick And Makes Her Pee Her Pants!
Source: Kami.com.ph