- President Rodrigo Roa Duterte has addressed the Filipino community in Brunei Darussalam during his visit, prior to his trip to China
- In his statement, the President has tagged himself as a "servant of God" on a mission to improve the country
- He also reiterated the war against drugs and urged his critics to put the blame in God for putting him in position
In a speech before the Filipino community in Brunei Darussalam, President Rodrigo Roa Duterte said that his presidency had been a mandate from God.
According to the president, the Philippines had been prophesied to be a great nation and now that he has been sent by God, he will work in accordance with God's promise as he was destined to be.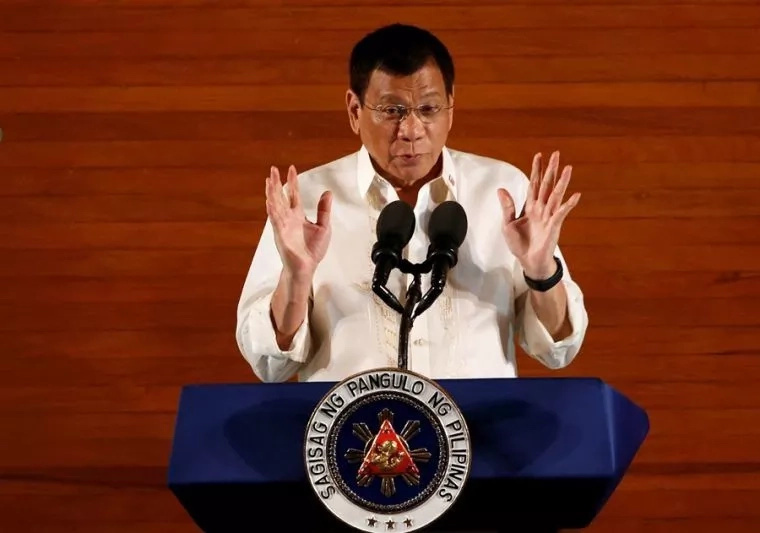 "With that promise of God, which is not mine for I am only your servant, I will work strictly in accordance with what God wants of me because being president is my destiny," Duterte claimed.
READ ALSO: Palaban si Digong! Daring Duterte challenges his fierce enemies to impeach him
According to the President, his winning in the presidential race was a "miracle" because God wanted him in the position to "improve the country, stop corruption, and make the lives of the Filipinos comfortable".
He also urged his critics to throw blame at God, if they are unhappy with his presidency, as He was just placed in position as a "servant".
"If you have any problem with that, don't blame me. Kung gusto ninyo, may galit kayo, gusto ninyong sigawan, sigawan ninyo ang Diyos dahil ang Diyos ang naglagay sa akin dito," Duterte said.
READ ALSO: Bato's drug war receives praise from ASEAN police chiefs
"In the end, that is what God wants," he added.
The President's use of God's name and mandate in his speech had earned mixed reactions from the netizens.
One netizen in particular had questioned when Duterte started to become a believer in God.
"kelan pa kaya naging maka Diyos tong kumag na to" - Labrador
Another one had expressed her belief that the President's mouth will lead him nowhere as everything that comes out of it is evil in nature.
"bunganga talaga ni dugong,walang pupuntahan!puro ksamaan ang lumalabas." - Lalaine Marasigan
READ ALSO: 7 realistic reasons why the Philippines should stick with the US
Some netizens have shown their support for the president by telling off the bashers.
"Pres Digong will come to pass, but the good thing with this President is, he only wanted the good, just and the best for his country, simply because he truly Love his country. He will do his job and mandate as President to clean the country from corrupt leaders and criminals and his dreams that the Philippines will be a great nation again...God bless you Patriot Pres Duterte. way to go sir." - Daboy
One of the supporters even said that the President's way would be hard to understand for haters, tagging it as a "Duterte thing".
"VOX POPULI, VOX DEI (the voice of the people is the voice of God) . Mahirap maunawaan ang mga sinasabi ni Pres. Duterte kung ayaw talagang unawain ng mga HATERS. Besides, Pres. Duterte's only dream and goal is to improve the condition and living status of the Filipinos. And he will do it according to what he is tasked to do regardless of who may get in his way. That is what you called, POLITICAL WILL. . Sa mga haters: IT'S A DUTERTE THING THAT YOU WOULDN'T UNDERSTAND (aside from the fact that your minds are infected by the Yellow Virus, hahaha)" - Jerry Alcantara
RELATED: Magnificent 7 members question inmate witnesses' motive for testifying vs De Lima
Source: Kami.com.ph