- The Supreme Court announced the extension of the status quo ante order on former President Ferdinand Marcos' burial at the Libingan ng mga Bayani (LNMB) until November 8
- Ex-Senator Bongbong Marcos, in a statement, said that the family is willing to wait for the said decision, and this extension should allow the justices more time to deliberate on the issue
- The members of the Coalition Against the Marcos Burial in Libingan ng mga Bayani also expressed their welcome for the extension as they urge the SC to look into a possible exchange of favors between Ilocos Norte Governor Imee Marcos and President Rodrigo Duterte
Supreme Court (SC) spokesperson Ted Te confirms on Tuesday, October 18, that the status quo ante order on former President Ferdinand Marcos' burial at the Libingan ng mga Bayani (LNMB) has been extended to November 8.
In a statement given by ex-Senator Bongbong Marcos, he said that the extended status quo ante order on his father's burial for his father will give the SC justices more time to study the issue.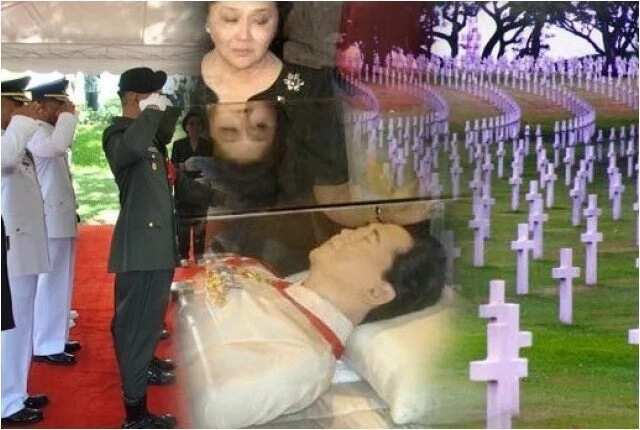 The strongman's scion had also said that they are willing to wait for the decision.
READ ALSO: Takot kay Barack! Why Palace is hesitant to invite US, EU to probe EJKs puzzles many
"Nakapaghintay nga kami ng 23 years, ano ba naman yung ilang araw," the former senator quipped.
(We were able to wait for 23 years, a few more days would not make much difference.)
Marcos' LNMB burial Opposition
Those opposing the burial, the members of the Coalition Against the Marcos Burial in Libingan ng mga Bayani, had their press conference on Tuesday, following the announcement of the extension of the status quo ante order.
Akbayan party-list Representative and lawyer of the Martial Law survivors Ibarra "Barry" Gutierrez reveals that though they had been expecting the SC decision on Tuesday, they welcome the extension and respect the Court process.
READ ALSO: Duterte signs EO to hold off barangay and SK elections
The Martial law victims and the petitioners against the burial of the former president at LNMB question the possibility of a transactional deal between Imee Marcos and President Rodrigo Duterte.
"This is something that we welcome considering that last Friday we had to file a manifestation before the SC asking the Court to look further to the statement made by the president regarding 'yung involvement ni Gov. Imee Marcos sa kanyang campaign," Gutierrez said.
In an interview on Monday, Ilocos Norte Governor Imee Marcos had already denied the allegations that the President's support for her father's burial at the Libingan ng mga Bayani was part of a deal, in exchange for her support to his bid for presidency.
READ ALSO: Imee Marcos denies quid pro quo with Duterte over father's burial at LNMB
Heherson Alvarez, a former member of the House of Representatives, also said that the decision of the Supreme Court, be it favorable to the victims or not, may be an opportunity to air the history's dark time as it now has the attention of the whole world.
"I think whether the SC will decide in favor of our petition or allow him to be buried, it is an opportunity for us to be able to ventilate these dark times of our history. Palagay ko narinig na tayo ng buong daigdig at iyan ang mahalaga," says Alvarez.
"Our nation will grow and from this growth, we shall stand to protect our freedom. Sinasabi natin sa lahat ng manunungkulang kagaya ni Marcos na hindi na maaaring maulit iyon," he added.
RELATED: Wait, Did Wikileaks Release Hilary Clinton Holding MAN'S CROTCH? (Photos)
Source: Kami.com.ph