- Imee Marcos gave an outright denial of an alleged deal between herself and President Rodrigo Duterte to bury her father and former President Ferdinand Marcos at the Libingan ng mga Bayani LNMB)
- According to the Ilocos Norte governor, while her support was real, it was not in the form of money or contributions, as she does not believe in political deals
- Victims of the Martial Law atrocities refuse to accept the governor's statement, and express disappointment towards the "transactional politics" of the Duterte administration
"Hindi ako naniniwala sa mga deal eh," says Ilocos Norte Governor Imee Marcos, as a form of denial for alleged transactional exchange between herself and President Rodrigo Duterte.
In an interview, the Ilocos Norte governor categorically denied cutting a deal with Duterte in exchange for her father's burial at the Libingan ng mga Bayani (LNMB).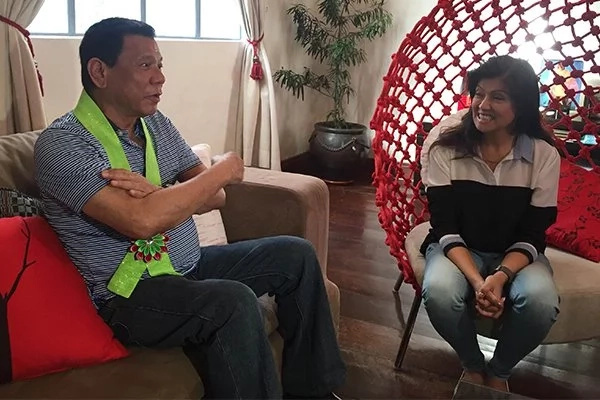 In an earlier speech, the President had said that Marcos had supported his campaign, saying, "Wala akong pera, si Imee pa ang nagbigay. Sabi niya inutang daw niya. Imee supported me."
READ ALSO: Hala ka Duterte! Justice Carpio affirms Duterte's possible impeachment if he surrenders Scarborough
Marcos, on the other hand, denied giving monetary support to Duterte's campaign.
According to her, "Palabiro naman si Presidente Duterte, alam naman natin yan eh at ah hindi naman ah kinakailangan na literal."
She also clarified that while the support is real, evidenced by Duterte's victory in Ilocos Norte, Duterte's support for the burial of the former president at the LNMB is not a form of payback.
READ ALSO: Duterte just agreed to say "YES" to SC decision on Marcos Burial at LNMB
"Yung mga monetary at kung anu-ano pang support eh hindi naman totoo yan. Ang akin lang full support ako, spiritually, morally, politically, kumpletos recados sapagkat naniniwala kami na sya lang ang makapagbibigay ng pagbabago sa Pilipinas," Marcos explained.
Victims of the atrocities of the Martial law, including former chairman of the Commission on Human Rights (CHR) Etta Rosales, refused to accept the governor's statement.
"The campaign promise was not one made generally to the electorate, but specifically to Imee and the Marcos family, in exchange for monetary support for his presidential bid," claimed Rosales.
READ ALSO: Jim Paredes, Cynthia Patag outrage fans by sharing false story about Duterte's drug war
Rosales also lamented the "transactional politics" in Duterte's administration and saying, "Burying Marcos at the Libingan ng mga Bayani is a betrayal of all the struggles of the Filipino people against dictatorship. 75,000, on record, suffered under Marcos."
The petitioners against the burial of the former president at LNMB filed a manifestation at the Supreme Court on Friday asking the magistrates that the account of possible transactional exchange between Marcos and the President be taken into consideration on their deliberation on the issue, set on Tuesday afternoon.
The Martial law victims are all set to gather at the Bantayog ng mga Bayani, in Quezon City, to hear the Mass, gather in prayer, and monitor the events at the Supreme Court.
RELATED: Video Emerges Showing Obama Flaunting Erection to Female Staffers?
Duterte, for his part, had once announced that his father had once been a Cabinet member under former President Ferdinand Marcos.
Source: Kami.com.ph