- Some parents leave their kids unattended thinking that they will be safe
- This toddler will prove that you should never leave your kids again
- Watch and share this video to inform all parents out there
Many parents think that once their babies are asleep, they will be safe from any harm which is why some babies are left unattended.
READ ALSO: Gay Man Is Begging His Partner Not To Expose Him To His Wife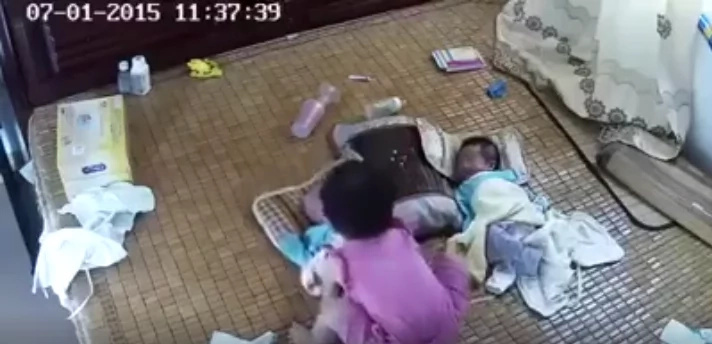 However, after watching this video, you will never want to leave your babies again, especially when there is a toddler around!
It is true that when there is a new member in the family, older siblings get jealous because the attention that was once focused on them is given to the new member. While this will result to behavioral changes, it is sometimes dangerous.
In this video, which is a CCTV footage, a toddler tries to babysit one of her newborn twin siblings. She thinks that she is handling the baby properly, just how her parents do, but after a few seconds, both of them fell on floor.
READ ALSO: Scrambled Eggs From This Perfect-Bum Lady Is... Delicious! (Video)
The child she was trying to carry fell on the floor with a thud on the bed, which is really painful to watch considering the baby's very young age and weak body.
While this scene will already make you cringe for the poor baby, the toddler tried to carry the baby again only to let it fall on the floor.
At the end of the clip, the toddler was caught carrying the baby so she let go of it.
READ ALSO: Am I Too Old For This 14 Yr Old "F*cking Drunk" Birthday Party? (Video)
Their mother, who was obviously horrified and enraged, came to rescue the baby and punish the toddler.
Netizens put the blame on the parents for leaving their children unattended.
WATCH the cringing clip below and share this story to warn parents out there to never leave their children unattended again!
Source: Kami.com.ph