- Senator Leila de Lima once again denied alleged connection to the Visayan drug lord Kerwin Espinosa who was reportedly arrested in Abu Dhabi on Monday, October 17
- According to the senator, the accusation that her name is listed in Espinosa's 'blue book' is yet another invented accusation
- Earlier, in August, a photo of the Senator, together with a guy who was believed to be Kerwin Espinosa has circulated online
"Ang favorite kong hashtag ngayon #inventpamore," says Senator Leila De Lima in response to the allegations that her name appeared on Kerwin Espinosa's 'blue book'.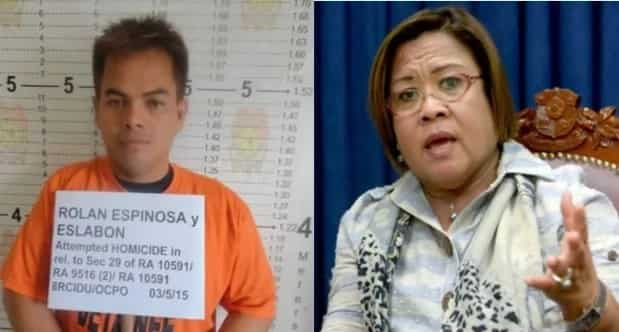 In a statement released by the senator's camp, she had said the allegation was part of the "web of lies" concocted against her by her critics.

The lady senator has repeatedly denied alleged links to the Espinosas - both the older and the younger one from Leyte.
READ ALSO: PNP confirms custody of wanted drug lord Kerwin Espinosa
"I don't know Espinosa, even the father," she said, referring to Mayor Rolando Espinosa Sr. of Albuera, Leyte province.
In August, a photo of herself with the alleged drug lord Kerwin Espinosa has surfaced and circulated on the Internet. De Lima had, at that time, said that the photo was just one of the photos she had posed for random people during the campaign period.
READ ALSO: Duterte just agreed to say "YES" to SC decision on Marcos Burial at LNMB
"They were just among those who asked to take a photo with me. That's not something like an arranged meeting or what," the senator said and added, "I think we were just going around and they approached me. I don't know him. I don't remember this. I'm sure of that."
Leyte's Albuera Police Chief Inspector Jove Espenido claimed that De Lima, a former secretary of Justice, allegedly received payola from Kerwin, the son of Albuera Mayor Rolanda Espinosa Sr., who is currently detained for drug charges.
RELATED: 4 things Duterte is definitely smarter than all world-leaders combined
Source: Kami.com.ph