EDITOR'S NOTE: This video contains themes and images that are not suitable for minors. Parental guidance is strongly advised.
CCTV footage showing a heroic security guard getting into a deadly gunfight with a group of armed robbers has swept the online community, with many netizens commending the bravery of the security guard.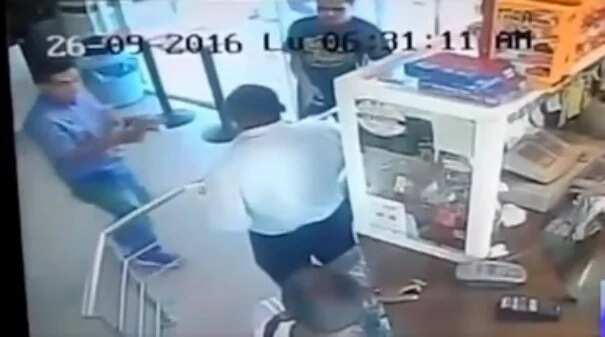 The intense video shows the security guard getting surprised as two men with guns entered the shop with the intention of robbing the shop.
According to the netizen who shared the video, another criminal was outside the shop assigned as a lookout.
Once the security guard found his timing, he immediately drew and fired his gun at the two armed robbers inside the shop. One of the wounded robbers was able to flee but the other one dropped to the floor.
READ ALSO: Armed robbers attack computer shop in Angono
However, the robber who was shot inside the shop fired and wounded the security guard.
Despite his fresh gunshot wound, the guard continued to fight and was able to kill the robber inside the shop.
Many netizens applauded the guard's heroism, courage, and bravery under such dangerous circumstances.
"Sana gumaling kaagad yung naputukang security guard. Matapang siya at palaban na security guard," a netizen wrote.
(Hopefully, the security guard will recover immediately. He is a brave and courageous security guard.)
Several social media users also warned security guards and business owners to be more vigilant with anyone who enters their business establishment.
"Dapat talaga siguraduhin ng mga business owner na alerto ang security guard sa mga pwedeng gumawa ng masama," a netizen posted.
(Business owners should make sure that their security guards are always alert to anyone who might commit a crime.)
READ ALSO: Crazed man gets beaten up by security guards in Bukidnon mall
Other netizens pointed out that the security guard should have made sure that the robber inside the shop was already dead before he fired on the robbers outside the shop.
"Maging aral ito na huwag nyong bibigyan ng pagkakataon para maka ganti pa ng putok," a social media user said.
(This should serve as a lesson not to give an opponent a chance to shoot back.)
SHARE this thrilling video with your loved ones!
Hungry for more scary and shocking videos? Check out the next video below.
READ ALSO: Reckless driver crashes car into motorcycle rider in Rizal
Source: Kami.com.ph