- When doing in the highway, it is crucial to be vigilante
- In this video, a brutal motorcycle accident occurs
- The car tried to escape, but a motorcyclist was able to chase and catch the hit and run vehicle
During blind spots on the road, drivers are reminded to keep a sharp eye out for incoming vehicles. Especially on the highway, where all cars and motorcycles are speeding, it is more important to be aware of everything that is happening on the road.
READ ALSO: Nakakagalit! Dad accidentally falls on child and crushes him to death
Otherwise, a brutal accident might occur.
In this video, a white car tried to overtake another car along the National Road in Binan, Laguna. Suddenly, it smashed a motorcycle.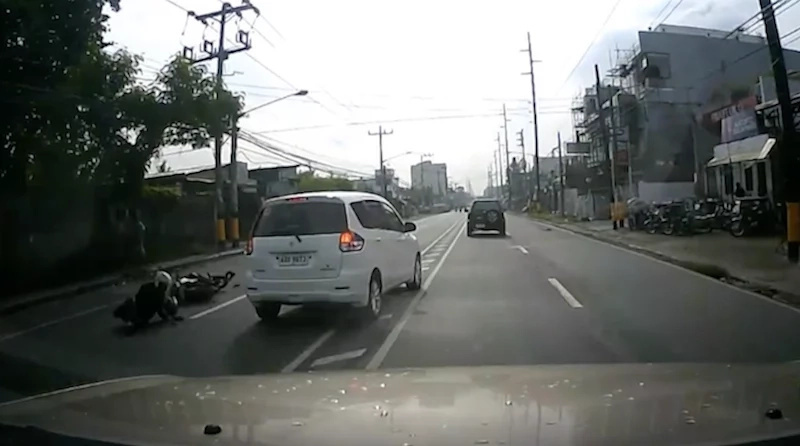 READ ALSO: Chinese Bride "Allows Guest To Molest Her During Ceremony" (Video)
The impact was so strong that the motorcycle driver went flying from his motorcycle.
After the accident, the white car paused for a second, then left the scene.
Fortunately, a motorist near the crash rushed after the hit and run car. After several seconds, the motorcycle hero was able to catch and corner the white car.
Afterwards, the authorities were called.
READ ALSO: This "Sex In The Bathroom" Act Has Everybody Lost Their Minds
The entire incident was caught on camera by a another vehicle and posted by GMA news.
As of October 14, 2016, the video has garnered more than 2million views.
Netizens have also called for more courtesy and avoid running away from an accident.
READ ALSO: A Tough Prison Inmate Raised This Dog, But Watch What Happens When He Says Goodbye...
WATCH the brutal accident and car chase below:
Source: Kami.com.ph