- A video showing a brutal traffic accident between a car and a motorcycle in Rizal has gone viral
- The video shows a car driver counter flowing at a blind spot and hitting an innocent motorcycle rider in the process
- Many netizens blamed the car driver for the unfortunate incident
Dashcam footage showing a violent collision between a car and a motorcycle in Rizal went viral, with many netizens outraged by the car driver for counter flowing at a blind spot.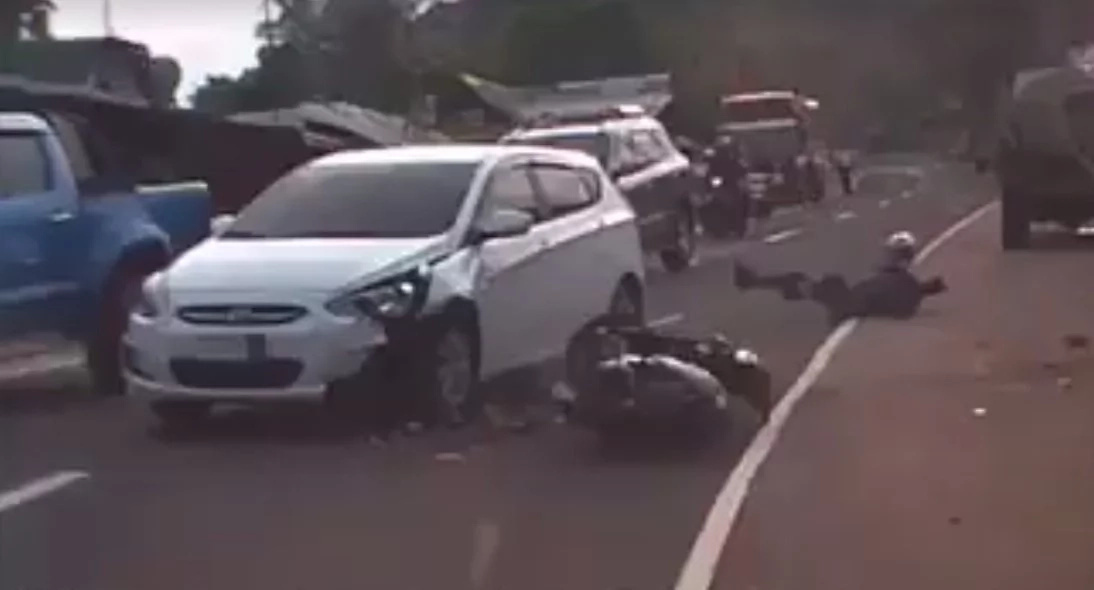 The video begins with the motorcycle riding in the street at a considerable speed and pace.
However, a car counter-flowed at a blind spot which directly hit the unsuspecting motorcycle. The motorcycle was ripped into pieces while the white car was also damaged badly.
READ ALSO: Drug addict gets beaten up after stabbing woman in Manila
Fortunately, the rider was able to jump off his motorcycle before it got violently hit by the reckless driver's car.
Most netizens blamed the car driver for the brutal traffic incident.
"Kahit siguro isang libong replay ng video, 'yung puting kotse talaga ang may sala, na occupied na nya ang buong opposite lane eh," a netizen posted.
(Even if you watch the video a thousand times, the white car driver was the one who made a mistake because he occupied the entire opposite lane.)
READ ALSO: Pinoys order fast food at Jollibee drive-thru while riding carabao
Some netizens said that the car driver was fortunate that the vehicle on the opposite lane was a motorcycle and not a bigger vehicle.
"Pasalamat na lang yung drayber ng kotse hindi truck nabanga niya. Kung truck yun patay siya," an online user wrote.
(The driver of the car should be thankful that he did not collide with a truck. If it was a truck, he would be dead by now.)
Several online users warned motorists not to counterflow at blind spots in the road.
"Ingat po sa mahihilg magcounterflow or overtake sa blindspots. Madalas anjan ang disgrasya," the netizen who shared the video warned.
(Those who like to counter flow and overtake at blind spots should be careful because they are more prone to accidents.)
SHARE this shocking video with your loved ones!
You thought that was shocking? The next video will shock you as well!
READ ALSO: Armed robbers victimize computer shop customers in Tanay
Source: Kami.com.ph