- Sagada Music Festival posters have become viral online for its cheap rates, good deals, and amazing roster of Filipino talents
- Filipino artists mentioned in the poster reacted strongly to this warning the public that they aren't part of this
- Netizen has noted some things that prove this festival is a sham
Filipinos have jumped in on the music festival craze as other countries have started it such as L.A.'s Coachella, Singapore's Laneway Festival, and many more. In the past, there have been festivals like 7107 International Music Festival, Wanderland, Malasimbo, etc.
A few days ago, music lovers nationwide were ecstatic to see a new upcoming music festival. It seemed like the perfect festival because of the ultimate lineup of artists including famous local bands such as Up Dharma Down, Silent Sanctuary, Yolanda Moon, Giniling Festival and even newer indie bands such as Jensen and the Flips, The Ransome Collective, and many more.
It's supposed to happen on October 22-23 at Sagada, which is a really gorgeous place to hold such a festival. It was such a too good to be true event.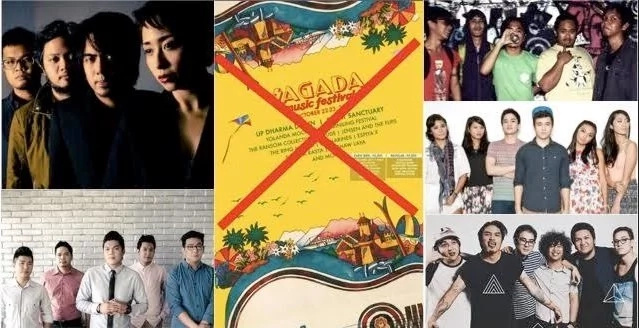 READ ALSO: Eraserheads reunite for a telco ad
According to Filipino artists, it isn't true.
Up Dharma Down, Silent Sanctuary, The Ransom Collective, Sud, and Giniling Festival have all made statements that they are not a part of this said festival. They have also warned the public that they shouldn't buy from this festival, as it is a sham. The email sagadafestivalscam@gmail.com has also been made for people who have already purchased tickets can report to.
Netizen Carlos K Tanada has made a post discrediting the festival and enumerated the reasons proving that it is indeed a scam.
The organizers for Sagada Music Festival are currently abroad and couldn't be contacted for two weeks now, said Tanada. He also reached out to the LGU in the area regarding this and they said they aren't aware of the said event.
The email address provided by the poster leads to a "dummy FB account." He noticed was that they used a prepaid mobile number to communicate with people.
READ ALSO: WATCH: Bamboo rocks NAIA 2 for Independence Day
The deals were also unbelievably great because for their early promo rate of P2,500 you can avail of an ALL IN package that includes the entry ticket, roundtrip transportation, a three days and two nights hotel accommodation with breakfast while the regular rate was P5,000. Others have commented on his post that P5,000 isn't even enough for this kind of a good deal.
Another sketchy thing to note is that the payment method. Only Cebuana Lhuillier or LBC are credited payment methods, which is not the norm in these kinds of festivals.
The poster that they used was also ripped from a poster from a Jazz Festival from Switzerland back in 1974.
READ ALSO: Sarah Geronimo, Bamboo covers '7 Years'
As of the moment, their Facebook page has been taken down already.
If you were scammed from this event, please email sagadafestivalscam@gmail.com, contact Cebuana Lhuillier or LBC.
To cheer you up a little bit, you might want to watch these singing football players:
READ ALSO: YOLO? Close Up Forever Summer concert kills 5
Source: Kami.com.ph