EDITOR'S NOTE: This video contains themes and images that may not be suitable for minors. Parental guidance is strongly advised.
A video of a criminal armed with a giant machete robbing a group of women inside a car in Malaysia went viral.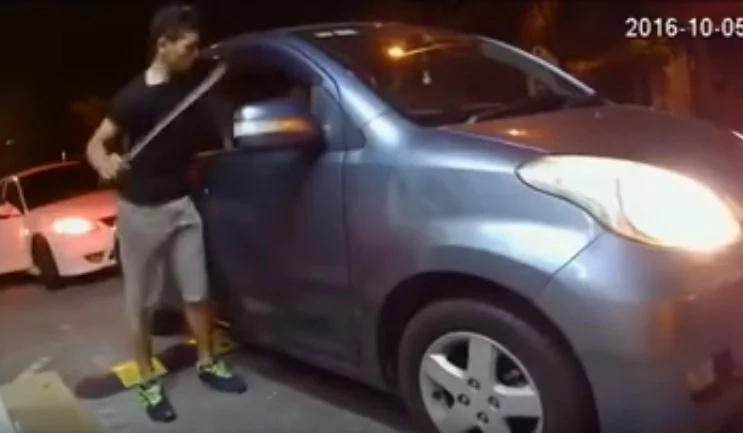 The video shows the victims' car stopping on the side of the road. A few seconds later, a white Honda car parked behind the women's vehicle.
A man with a machete then stepped out of the Honda and started to attack and rob the women.
READ ALSO: Chinese woman arrested for pretending she got hit by car
The man was able to take some valuables from the women but they were able to get away from the criminal safely.
Many netizens expressed their relief that the women were not hurt by the criminal with a machete.
"Kahit sino mag panic pag atakihin ka ng kawatan na may machete (Anybody would panic if he or she was attacked by a criminal with a machete)! Buti na lang nanakawan lang sila at hindi sinaktan (Good thing that they were only robbed and not hurt)," an online user said.
Several online users commented that the victims were fortunate to be attacked by a criminal with a machete and not by someone with a gun.
"Mas okay na yang machete kaysa sa baril (Being attacked with a machete is better than being attacked with a gun). Mas madaling takas an ang machete (It is easier to escape a criminal with a machete)," a netizen pointed out.
READ ALSO: Young Pinoy students risk their lives daily to attend school
Other netizens advised motorists to always lock their doors and close the windows in order to prevent being targeted by criminals.
"Kaya mahalaga talaga nakasarado yung bintana ng kotse para iwas kawatan (This is why it is very important to close the vehicle's windows in order to avoid criminals on the road)," an online user commented.
READ ALSO: Parents allow little girl to take control of motorbike on the road
Source: Kami.com.ph