- A video of a group of Pinoy students crossing a narrow and slippery makeshift bridge to get to school went viral
- Netizens applauded the work ethic of the students
- They also urged the local government officials to provide a safe access for the students
A video of a group of young students crossing a scary and dangerous makeshift bridge in order to get to school has gone viral, with the online community applauding the students for giving importance to their education and slamming the local government for failing to provide a safe access to school.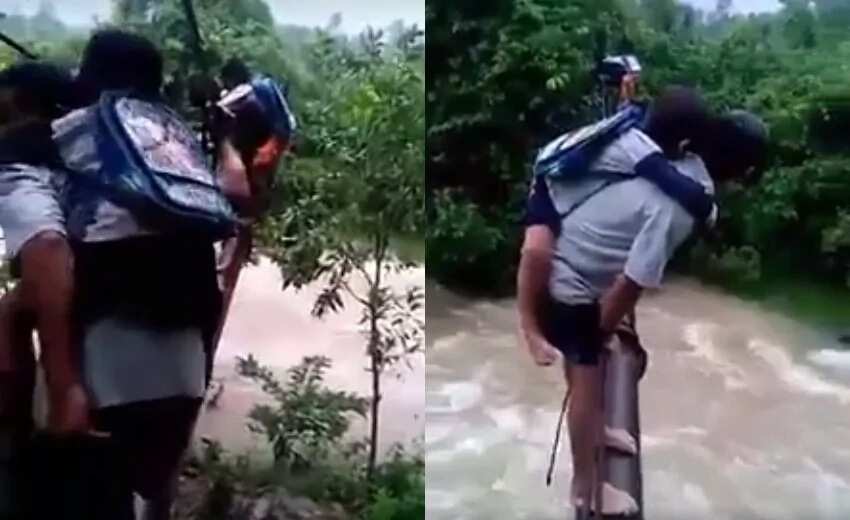 The intense video shows that the students are risking their lives just to go to school every day. They can be seen throughout the video struggling to cross the very narrow and slippery makeshift bridge.
If they fall from the bridge, the students would most likely be drowned by the raging waters below.
READ ALSO: Chinese woman arrested for pretending she got hit by car
The netizen who shared the video urged all students to use the video as an inspiration to be more hardworking in school.
"Hope it's an eye opener sa mga studyante dyan na tamad mag Aral kahit ilang hakbang lang ang school galing sa bahay (for all of the students out there who are too lazy to study even if their school is only a few steps away from their house)," the online user posted.
Other netizens applauded the students for trying their best to get to school. However, they also urged the local government officials to provide a safer access for the citizens.
Unfortunately, the netizen who shared the video was not able to confirm where the clip was taken.
READ ALSO: Female Chinese employees forced to kiss their boss daily
"Katakot naman ng kalagayan niyo, madulas ang tubo na yan. Konting pagkakamali ng paa mo nako buhay niyong nakataya... Asan ang mayor niyo, mga official ng brgy or lahat ng offcial. Action nAman kau... Wag lang tumanggap ng pera tapos nakikita niyong ganito hindi kau gumawa ng solution," an online user lamented.
(Your situation is very scary, that tube is very slippery. You make one mistake with your step and you risk your life. Where are the mayor, the barangay official and all of the local officials? Please take action. Do not just accept money and then do nothing to solve the problems.)
SHARE this scary video with your loved ones, especially with those who go to school.
READ ALSO: Bride gets slapped by her groom at wedding reception
Source: Kami.com.ph