- 'Pilipinas Got Talent' judge Robin Padilla is one of vocal celebrity supporters of President Rodrigo Duterte
- Robin has rallied the legalization of medical marijuana once again with his post on the death of his colleague Dick Israel
- The renowned action star wrote consecutive posts regarding his cause, sharing a clip of the president in favor of medical marijuana legalization
The death of Dick Israel has made Robin Padilla raise his fight again to legalize marijuana in the country for medical purposes.
On his official Facebook page, the actor shared the link of his colleague's death with a lengthy post on how he could have helped him.
He started his statement that Dick was a 'victim of medical marijuana oppression' since it was what the late veteran asked of him. It has been known that the 'Patrolman' actor had a stroke in 2010 but has not fully recovered from it.
READ ALSO: Sana sumaya ka! Cesar Montano hopes Sunshine Cruz will be happy in new relationship
According to medical studies, marijuana can reduce brain damage of stroke patients.
If the government was only keen on permitting marijuana use in the country for its medicinal properties, then Dick and other poor souls would not have met their unlikely demise.
Robin also indicated in his post that he is not hitting the government for the death of his former co-worker but lobbied for the approval of House Bill No. 180, otherwise known as the Philippine Compassionate Medical Cannabis Act.
READ ALSO: 9 Pinay celebs who incredibly excelled in school
The actor was quick to follow up his statement with two more in the comments section, one of which became a separate post. However, he reiterated the last part of his initial post on his second comment before naysayers can bash him for his opinion.
The comment that became his next post was about how President Duterte and some officials of the Department of Health (DOH) were in favor of legalizing medical marijuana. Robin is known as one of the president's staunch celebrity supporters, but the administration's fight against drugs has got him hesitant on its direction.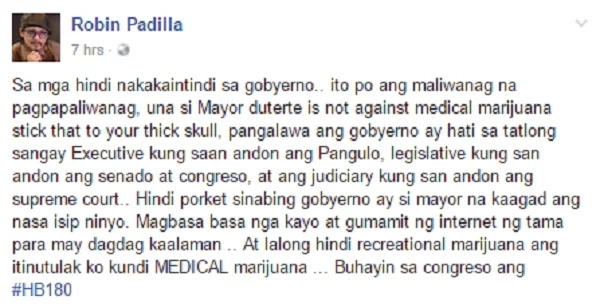 Celebrities have been the next targets of the intensifying campaign, to which he commented that it would be better if the list of alleged users in the industry will not be announced in public.
Do you think that HB No. 180 should be resuscitated or do you think keeping marijuana illegal is for the best? Let us know in the comments what you think as always!
READ ALSO: 8 Gorgeous Pinays ready to conquer 2016 International beauty pageants
Source: Kami.com.ph