- Fictional Facebook character Madam Claudia slammed Duterte supporter Mocha Uson
- Madam Claudia posted a photo comparing the achievements of actress Agot Isidro and Mocha Uson
- Mocha lambasted Agot for criticizing President Rodrigo Duterte
After blogger and Duterte supporter Mocha Uson lambasted Agot Isidro after she called President Rodrigo Duterte a 'psychopath', fictional online character Madam Claudia striked back to Mocha and posted a photo calling her 'Basurang Tuwadera'.
Madam Claudia, who previously slammed Mocha after criticizing Vice President Leni Robredo, posted a photo of actress Agot Isidro and Mocha Uson, comparing the two.
On the upper portion of the photo, a caption described Agot as: "Magna Cum Laude with a master's degree in communication from the Ateneo de Manila University" , while the lower part showing a photo of Mocha almost naked says: "Basurang Tuwadera na mahilig sa cum".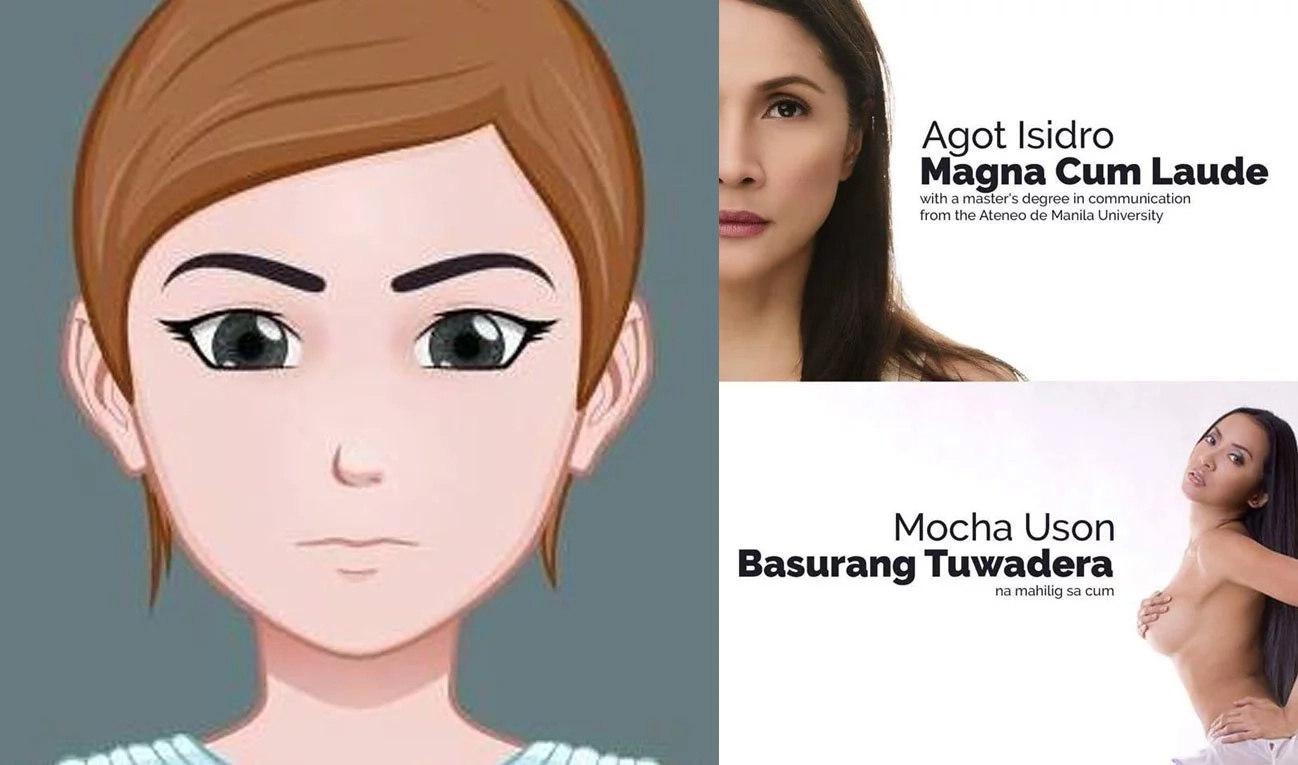 READ ALSO: Mocha Uson slams Agot Isidro
Some netizens were not happy with the photo while others defended Madam Claudia and Agot.
One user said: "Madam, sorry po pero as a follower of your page, can I suggest we avoid slut shaming any woman who's involved in politics? I support De Lima and agree with Agot (for the most part) but even I think slut shaming Mocha was a low blow. We can attack her stupid political commentary, but not her sexuality. Whether it's Mocha, Leni, Agot or De Lima, slut shaming will still be slut shaming and once we resort to that, we'll be no different from 'Brand X'."
Another Facebook user commented: "Si Agot nakikipag-laban para sa Pilipinas, para sa mga Pilipino, si Mocha nakikipag-laban para kay lord Digong."
READ ALSO: Madam Claudia responds to Mocha Uson's post vs. VP Leni
Madam Claudia then defended herself and replied to bashers: "Lakas ng loob magmalinis ng mga punyetangang Brand X dito kesyo slut shaming daw? nakakahiya naman sa pambabastos nyo sa pagkababae ni Sen. De Lima , VP Leni Robredo pati na rin si Agot pati yung matris nya pinagsisigawan nyo pa? sorry mga ateng,, mas matindi pa kayo sa demonyo.."
Agot previouslt criticized President Duterte for his remark on the international assistance given by the European Union and the United States to the Philippines.
READ ALSO: Agot Isidro calls Duterte a 'psychopath'