Even if she has not made headlines recently, Ruffa Guiterrez will always be one of the most glamorous women in showbiz. A former beauty queen, actress, and host, she currently stars in E! Asia's 'It Takes Gutz to be a Guiterrez', the local counterpart of 'Keeping Up With the Kardashians'.
Despite not attracting much attention to herself these days, Ruffa consistently proves that she still has 'it' - factors that make her people notice her still. After all, she has been of Manila's 'It Girls' prior to Georgina Wilson's gang.
Here are 11 photos of Ruffa rocking outfits that would give the current 'It Girls' a run for their money.
1. Pink isn't just for girls - it's for women too.
The color pink usually evokes images of young girls in pigtails and frilly socks, but it can be the color of a sophisticated, mature woman. Ruffa proved otherwise in a skintight baby frock, highlighting her curves.
2. Coat, jewels, and shoes? Check. The rest? To hell with it!
This was one of the photos that got published in Metro Magazine's September 2013 issue. Ruffa was portrayed more glamorously than usual as the shoot was done in Florence, Italy, wearing only famed luxury Italian brands.
3. Itty bitty black monokini.
Momma loves the beach, as evidenced by lots of photos of her in different tropical destinations all over the world. She is known to wear brightly-colored kaftans over her swimsuits, but in this case she is in the water with her little one. Doesn't she look fabulous in her black, low-cut snake-effect one-piece?
READ ALSO: Respeto lang: Supportive Christian Bautista defends embattled Agot Isidro from bashers
4. Debutante gone daring.
Even if she past the debutante age, Ruffa rocks another pink concoction with aplomb. Although the style of her gown might be reminiscent of prom in the 80s, she makes it work with the low neckline and sleek make-up.
5. Hot momma!
Here she is again in another black one-piece, but this time it has more details that leave more to the imagination. Ruffa is the definition of a beach goddess as she poses in the water, wet and tanned. How to be you po?
6. Tight means right.
One doesn't always have to be in a skimpy outfit to be called sexy - sometimes wearing snugly-fitted clothing is. Despite not showing off her cleavage and legs, Ruffa's curves are the star of the show in this tight blue jumpsuit. #GirlBoss lang ang peg!
READ ALSO: 7 posts by Luis Manzano that will make you laugh harder than they should
7. Total beach babe.
In another post by the beach, Ruffa wears a strapless gown that reminds us of the swimsuit the original Barbie wore when she first came out. Even her hair is similar to the doll, which tells us that she may be the next best thing to the iconic doll.
Here is a photo of Barbie wearing her legendary swimsuit when she was released in 1959. Don't they look similar?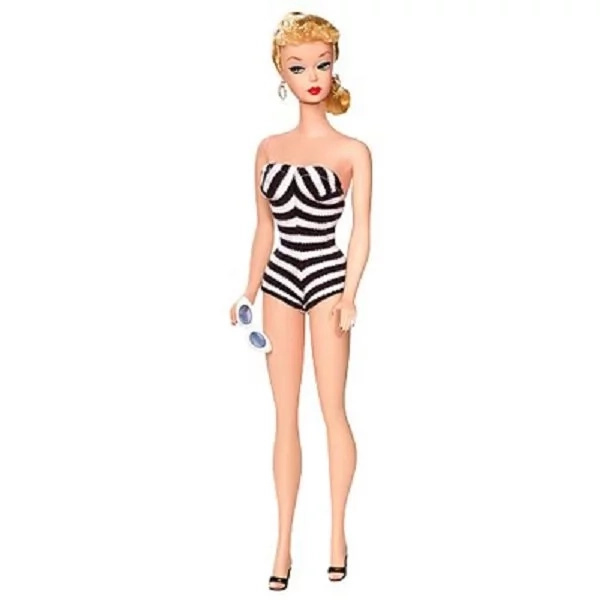 8. Sizzling in red for her Belo ad.
Never mind that she may have some parts of her body done, she still looks good after being one of its longest celebrity endorsers. In one of the medical clinic's ads, it was a perfect decision to have her in the middle of the group as she rocked the sexiest outfit of them all - a red halter gown that exposed her midriff and legs. At her age, only a few can rock that.
9. Red screams confidence, power, and sexiness.
It seems that she has a penchant for red gowns - and in this shot, she shows off her cleavage and mile-long legs in her skin-tight dress. She should make wearing gowns like this a trademark of hers since they look gorgeous on her!
10. The sexy little black dress.
Touted as a fashion essential, Ruffa wears her little black dress with a twist. The open yet intricate neckline show off her cleavage in the most tasteful way possible and its tight fit ensures that she looks sleek in it. Topped with the right accessories and hair and make-up, she looks like she snag any man in the room.
READ ALSO: May krisis si Kris! Emotional Kris Aquino expresses regret over leaving ABS-CBN
11. Slay (beauty) queen!
As usual, her cleavage and curves are highlighted in this blue strapless Albert Andrada gown she wore for her brother Eli's wedding. Her make-up perfectly complements the stunning gown since she looks fresh and younger than her 42 years.
Her outfit deserves another shot and here it is along with Sarah Lahbati and the other bridesmaids.
But wait! Doesn't Ruffa's gown remind you of the one Pia Wurtzbach wore when she won Miss Universe 2015?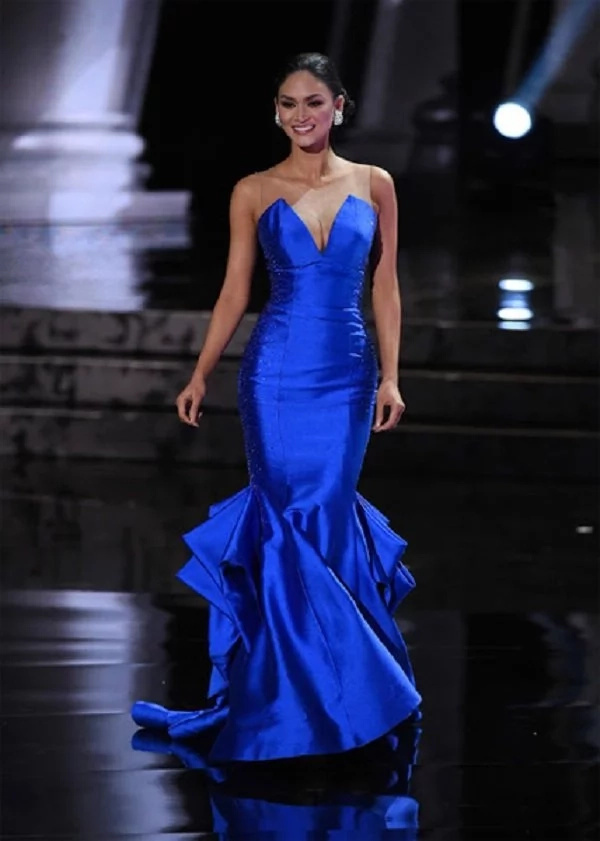 Upon researching, Pia's gown was also created by Andrada. He sure does know how to highlight a beauty queen's best features!
READ ALSO: Apektado much! Sunshine Cruz replies to rude netizen commenting on daughter's Instagram
Source: Kami.com.ph