- A video of a Chinese woman pretending she was hit by a car in the street went viral
- The responding cops did not believe the woman and they arrested her
- Netizens applauded the cops and slammed the woman for her deception
A video of a woman in China getting arrested by the police after she pretended that she was badly hit by a car on a busy street has gone viral, with the online community outraged by the woman's attempt at deception.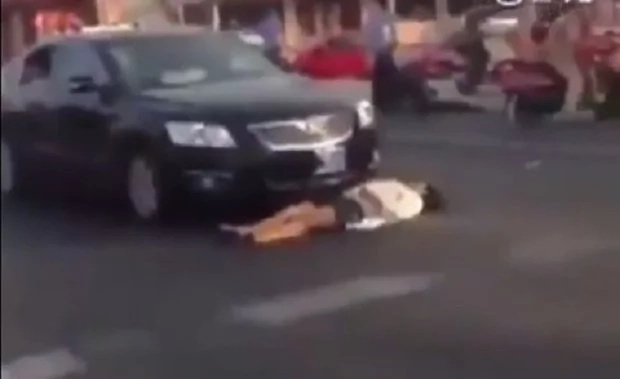 The video shows the woman slowly lying down in front of an expensive black vehicle. Fortunately, the driver of the vehicle was alert enough to hit the break at the right time.
The woman continued to lie down as she pretended to be badly hit.
READ ALSO: Bride gets slapped by her groom at wedding reception
A few moments later, a couple of Chinese cops arrive at the scene to drag her out of the street and into a police car.
Many netizens applauded the cops for not believing the woman's deception. They also slammed the woman for trying to pretend she was badly hit by the innocent driver.
"Napaka peke ng babae nayan! Buti nakuhanan ng video," a netizen pointed out.
(That woman is so fake! Fortunately, someone was able to capture a video of the incident.)
READ ALSO: Female Chinese employees forced to kiss their boss daily
Other online users explained that drivers in China who injure people with their vehicles are liable to pay a hefty amount to their victims and that is why there are many people who pretend that they were hit by vehicles.
Several netizens also expressed their hope that the woman will be punished for what she did.
"Dapat yung babae ang magbayad dahil sa panggugulo niya sa drayber pati sa trapik (The woman should be fined for causing problems with the driver and the traffic situation)," an online user wrote.
SHARE this bizarre clip with your family and friends!
READ ALSO: Parents allow little girl to take control of motorbike on the road
Source: Kami.com.ph